Just because summer's drawing to a close, there are still some awe-inspiring travels and trips you can enjoy in the cooler autumn weather—especially if you love riding a bike. In fact, fall is the perfect time to explore the fantastic scenery this country has to offer from the saddle of a bike.
So if you're a dedicated road rider and you're looking for something exciting and out-of-the-box to challenge and refresh you, take a look at these incredible road rides calling your name this year.
1. Do a "dream ride" around the rim of Crater Lake.
Oregon is a top destination for adventurous cyclists for good reason—its rugged coast, and of course, its crown jewel, Crater Lake. We think the 35-mile ride around the rim of Crater Lake is one of the most spectacular one-day road rides in the world, an opinion confirmed by Bicycling Magazine.
From an elevation of 6,500 feet, the views are simply breathtaking, and with plenty of climbs and descents, it's an exhilarating challenge you'll never forget. If you're thinking of a bicycle trip in September, Crater Lake should be at the top of your list.
2. Watch the whales and smell the flowers on San Juan Island.
In just a single day, you can have two incredible lifetime experiences: Pedaling past (and touring, if you'd like) acres of sweetly scented lavender fields at Pelindaba Lavender Farm and hugging the coast on the Whale Trail at Lime Kiln State Park to see pods of killer whales. Did you know that Lime Kiln is one of the best whale-watching spots in the world?
3. Marvel at the Columbia River Gorge on the Mark Hatfield Trail.
With Multnomah Creek to the left and Mount Defiance to the right and the Columbia River below, the Historic Columbia River Highway State Trail is eye candy for the nature enthusiast. The 60-mile trail is closed to vehicle traffic and packed with interesting details such as the elaborate Depression-era stonework that forms the trail's guardrail. It's another Bicycling magazine top pick for road-riders. You won't want to miss the views of the Columbia Gorge from the seat of your bike.
4. See some splendid limestone palisades as you cycle through Spearfish Canyon.
South Dakota is known for its unusual and eerily beautiful Badlands landscapes (and Mount Rushmore, of course). But if you're looking for a view with a truly spectacular "wow factor," there's nothing like the palisades in Spearfish Canyon. Did you love the waterfalls and canyons in the movie "Dances with Wolves?"
You'll see it all—and lots more—in an amazingly up-close-and-personal way on a bicycle tour of South Dakota's western frontier.
5. Cross the Continental Divide on the Going-to-the-Sun Road (Logan Pass) in Glacier National Park.
You can guess just by the name that riding Going-to-the-Sun Road is going to be awe-inspiring. This 50-mile stretch crosses the Continental Divide at Logan Pass and is flanked by towering glaciers, cascading waterfalls, explosions of blooms, and rugged wildlife like bighorn sheep and mountain goats.
It's an epic adventure from the saddle of your bike—a bucket-list experience for the thrill-seeking cyclist inside you.
6. See the hidden side of Hawaii riding through Pahoa and Kalapana.
Imagine yourself cruising along a quiet network of roads through banyan trees with the heady fragrance of the eucalyptus forest surrounding you, your ride punctuated with alluring peeks of the sparkling blue ocean and pounding surf. That's the Hawaii the locals love best and you can experience it yourself en route to Volcanoes National Park on a tour of Hawaii's Big Island this fall.
7. Find your cycling heaven on the Hell's Canyon Scenic Byway.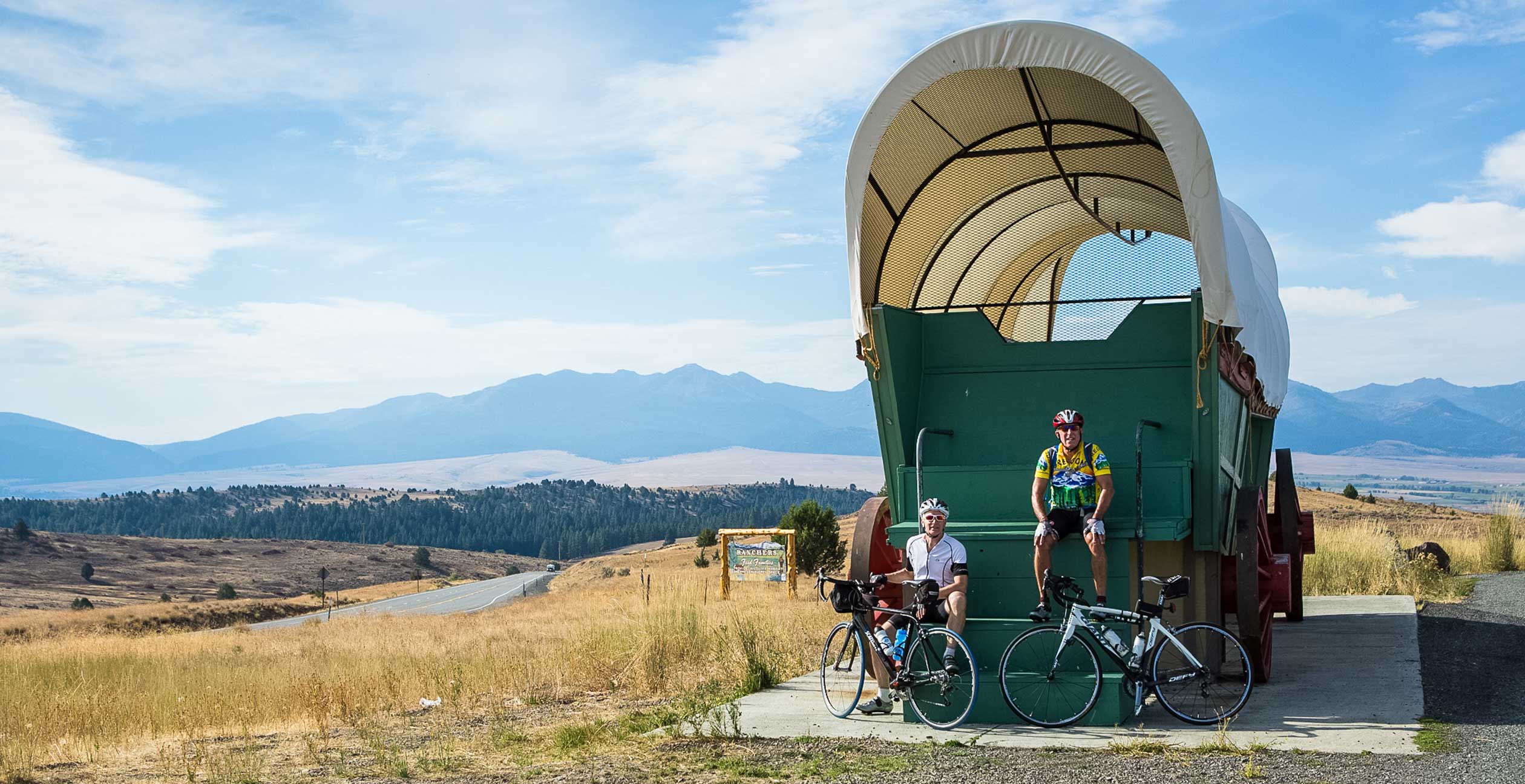 The views from the rim of Hell's Canyon are simply staggering—it's the deepest canyon in North America. And even if you can't see the Snake River far below, you won't really care. Carved by millions of years of erosion, the canyon plunges nearly 8,000 feet in places, easily dwarfing the 6,000-feet drop of the Grand Canyon. Of course, you'll want to descend to the river level below for even more spectacular views (and maybe a little whitewater rafting if the spirit moves you).
8. Ride the High Road to Taos through the Sangre de Cristo mountains.
Want a taste of Old Spain right here in the United States? Love the jarring juxtaposition of snow-capped mountains against a jewel-toned desert landscape? The High Road to Taos is all that and more, a dream ride for fans of Ansel Adams and Georgia O'Keefe. You'll love meeting the artisans practicing their ancient crafts in the remote hilltop villages—and a few nights in Casa Benavides, an inviting adobe inn, will refresh your soul. Can you think of a better way to spend a week in September? (Honestly, we can't).
9. Cycle in the shadow of the spectacular saguaros on the Starr Pass.
Is there a more iconic symbol of the desert southwest than the Saguaro cactus? Imagine cycling the serene roads through Saguaro National Park with these prickly giants, some soaring 50 feet into the sky, towering over you, casting their shadows across the road. There are actually very few places to see these rare cacti up close—and Arizona's Sonoran Desert just outside Tucson is the only place to see them clustered in dense Saguaro "forests."
10. Glide through the Lost Coast in California's redwood forests.
Dream of riding California's gorgeous coast but hate the idea of masses of car traffic? You'll love cycling the Lost Coast, the only piece of Cali's coastline unmarred by a major highway. Picture yourself lost in redwood forests, coasting through tranquil valleys, and cruising past panoramic views of the turquoise ocean and milky beach.
And if you're up for a challenge, tackle the "Endless Hill," an 8-mile climb that forms part of the "Tour of the Unknown Coast," one of California's toughest century rides.
11. Cruise in technicolor through Utah's Kodachrome Basin.
It took 180 million years to create the stunning spires and hues in the Kodachrome Basin (and yes, it really is named after Kodak's color film). And the name is utterly appropriate, because it's a location that begs to be photographed. Unimaginably blue skies, gold and crimson sandstone chimneys and "hoodoos" all punctuated by brilliant evergreen scrub. Is it any wonder Kodachrome and its neighbor Red Canyon are two of the most picturesque of Utah's national parks?
Are you itching to climb on your bike this fall for one of these incredible road rides? Why not get in touch today and let us help you bring your dreams to life? And if you're not quite ready to have a chat, sign up for our free email course to learn everything you ever wanted to know about planning a bicycle tour vacation.