Discover and explore what we ultimately strive for in a cycling vacation–which is to simply "Pedal Happy".
Close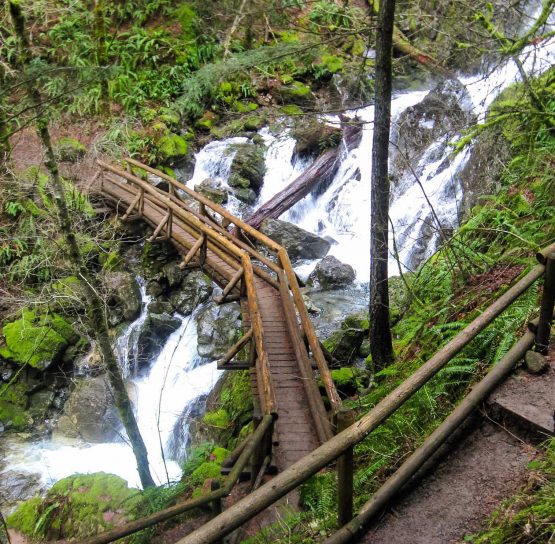 Our guide was encouraging, SO knowledgable, and supportive. He encouraged me to push myself a little bit outside of my comfort zone, and I felt completely safe the entire time.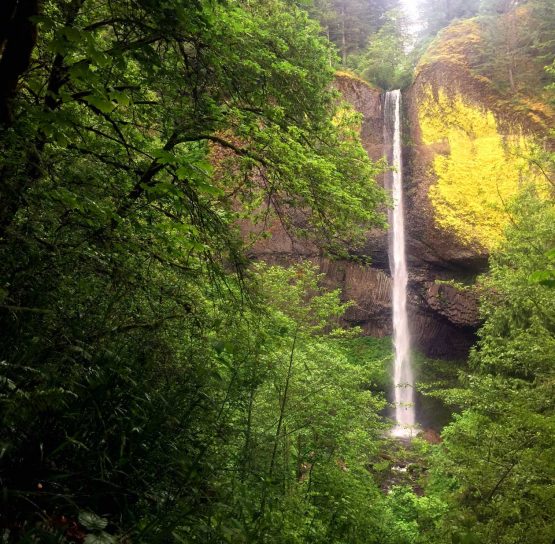 As with all BA tours, bicycle or hike, I love the flexibility allowed to the guides. Whether it be meals or route changes, the possibilities are there. All you have to do is ask!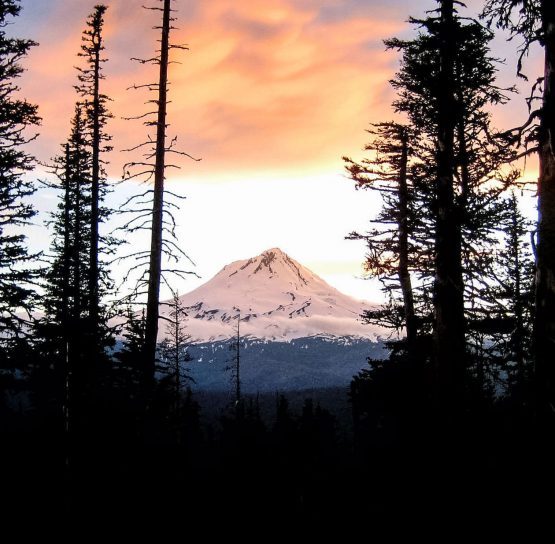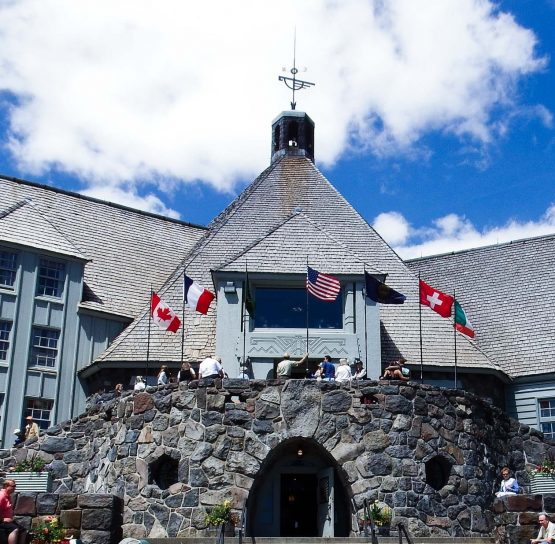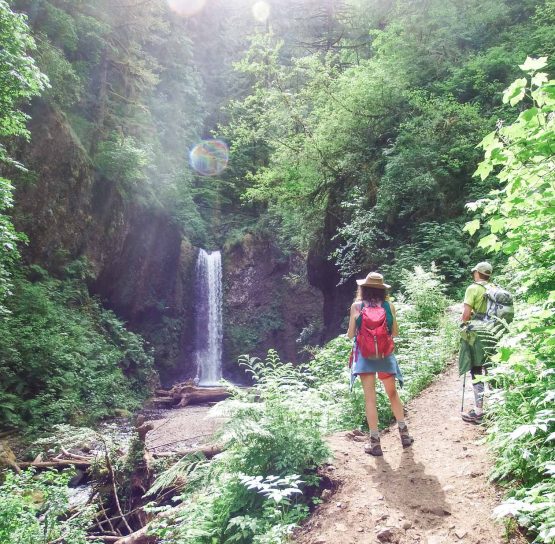 Truly one of the world's mighty rivers, the Columbia is the largest in western North America. The New York Times describes the Columbia Gorge as being "like Europe, only better." Hailed as one of Oregon's Seven Wonders, the region's fleece-capped mountain peaks, primeval forests, abundant wildflowers, and waterfall-streaked highlands evoke the Swiss Alps. Learn about the rich natural history of the region as we visit each of these diverse environments up close, including a whitewater rafting trip down a spectacular gorge. From Multnomah Falls to Hood River to Mount Hood, easy-to-reach trails abound, making this the ideal location for a hiking tour!
This tour is operated under special use permit/s with the Gifford Pinchot National Forest, Columbia Gorge NSA and Mt Hood National Forest. Bicycle Adventures is an equal opportunity provider.
Day 01
Hike in Mt. Tabor Park. Sample a bit of the longest forested urban trail in America.
Distance
2 miles (and more)
Elevation
350 ft (and more)
No tour of the Gorge area would be complete without taking in some of the attractions the city of Portland has to offer. First, we will head to Mt. Tabor Park for a walk to the summit. Besides being one of Portland's most beloved city parks, this extinct volcano featuring native vegetation great views of the city and beyond. Grab lunch on your own at one of Portland's famous food-cart pods. Hike a portion of the longest forested urban trail in America – the Wildwood Trail. At 30 miles long, the Wildwood winds its way through a series of city parks in the West Hills. Before dinner at one of the excellent restaurants near our hotel (included), you can explore downtown, hit up a wine bar, or sample some of the areas fine craft beers at a local brewpub. Lodging tonight will be at the Paramount Hotel in the heart of the city.
Day 02
Take a waterfall tour, then cross the Bridge of the Gods to Washington for a hike to Falls Creek Falls.
Meals
– Breakfast
– Lunch
– Dinner
This morning we head into the Columbia River Gorge. Creeks and rivers rush forth from snow-covered mountains and plummet down the towering cliffs of columnar basalt that form the walls of the Gorge. If there's one thing the Gorge is known for, it is spectacular waterfalls. We will stop for short walks to a couple of falls on the Oregon side of the river and then cross over into Washington State via the Bridge of the Gods, where a massive landslide spanned the river not so long ago. Hike a quiet trail (something that is hard to find in this area) to the two-tiered Falls Creek Falls. Stay two restful nights at one of the Gorge Scenic Area's destination hotels, Skamania Lodge.
Day 03
Hike to Hamilton Mountain Ridge and descend into the rainforest.
Meals
– Breakfast
– Lunch
Ability Level
Intermediate
Two great options to choose from today: ascend Hamilton Mountain or spend a day relaxing at the spa and wandering the lovely trails around Skamania Lodge. If you choose Hamilton Mountain, you will ascend through towering westside forests past waterfalls to wildflower-strewn meadows perched on parched, desert-like basalt cliffs. Instead of returning the way we came, we descend via a rainforest canyon of maple, red alder, and diverse ferns. Those with extra energy can scale Beacon Rock, as well, This carnival-ride of parapets and walkways is not recommended for those with a fear of heights, but it is an absolute must for trail engineering aficionados! Dinner tonight is on your own at the Lodge.
Day 04
Go whitewater rafting then hike on Mt. Hood near iconic Timberline Lodge.
Meals
– Breakfast
– Lunch
– Dinner
Take a whitewater rafting trip (included in the trip fee – no experience necessary) down the glacier-fed White Salmon River. Running clear and cold, the river cuts through a narrow rocky gorge with 100-foot cliffs, emptying out into forested meadows. Have lunch along the river before we head back into Oregon, bound for the literal high point of the tour at Timberline Lodge – a National Historic Landmark perched upon the flanks of Mt Hood, and our lodging for the next two nights. Go for a walk through the mountain meadows and snowfields surrounding the lodge. Marvel at the sweeping views. Savor a celebratory dinner in the fabulous Cascade Dining Room and relax afterward in front of the legendary three-story fireplace!
Day 05
Hike to Mirror Lake on Mt. Hood for a picture-perfect finale.
Meals
– Breakfast
– Lunch
On the final day, explore the best Mount Hood National Forest has to offer. See how Mirror Lake earned its name, offering a perfect reflection of the mountain on a calm day. Continue above a glacial-cirque headwall through wildflower meadows to Tom Dick and Harry Mountain (yep, that's the name). This rocky summit amidst the lush forests of the Salmon-Huckleberry Wilderness offers the perfect perch from which to contemplate the icy volcanic towers of Mt Hood and Mt Jefferson, as well as a host of other peaks in the northern Oregon Cascades. On a clear day, more than 5 volcanoes are visible from here. We toast our journey and have a celebratory lunch before returning to Portland.
*Bicycle Adventures operates under special use permits while on Federal Lands managed by the National Forest Service (USDA), National Parks and Bureau of Land Management. In accordance with Federal law and U.S. Department of Agriculture policy, this institution is prohibited from discriminating on the basis of race, color, national origin, sex, age or disability. (Not all prohibited bases apply to all programs.) To file a complaint of discrimination: write USDA, Director, Office of Civil Rights, Room 326-W, Whitten Building, 1400 Independence Avenue, SW, Washington, D.C. 20250-9410 or call (202) 720-5964 (voice and TDD). USDA is an equal opportunity provider and employer.
Dates
Guaranteed
This means that the tour will definitely depart as scheduled and not be canceled.
Price
Availability
This is not required. It is an optional fee to allow a solo traveler to guarantee a private room for the duration of the tour.
Dates
Contact us to schedule a private tour!
Guaranteed
This means that the tour will definitely depart as scheduled and not be canceled.
Evergreen Escapes
See our Mt. Rainier tours, Columbia Gorge tours, Olympic National Park tours, Seattle Mountain Bike Tour, wine tours and more!