Discover and explore what we ultimately strive for in a cycling vacation–which is to simply "Pedal Happy".
Close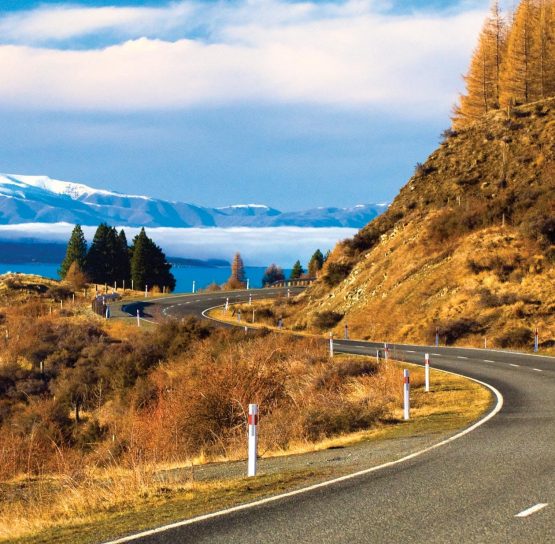 Beautiful scenery, especially enhanced when the sun comes out. Guides are very supportive and accommodating to the various levels of riders. Everyone is encouraged to ride to their comfort level.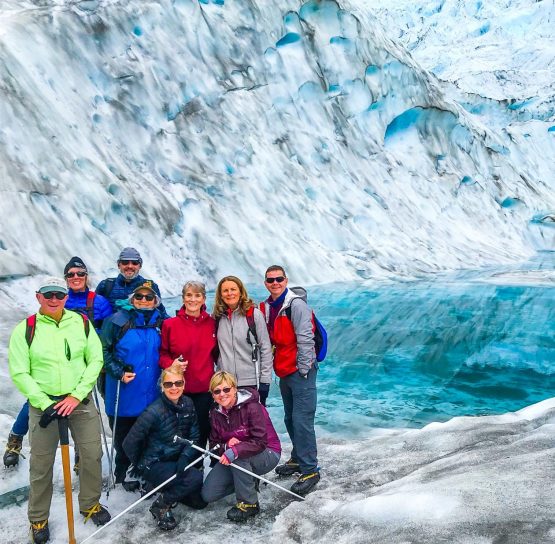 Extremely well thought out and organized tour that caters to every level of cyclist and you are guaranteed to make life-long friends along the way including the guides.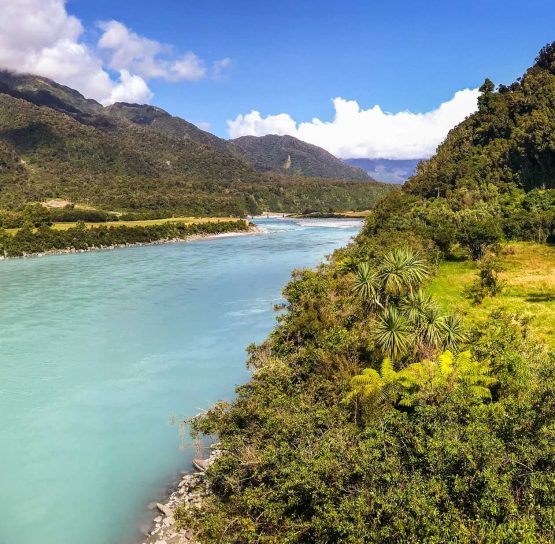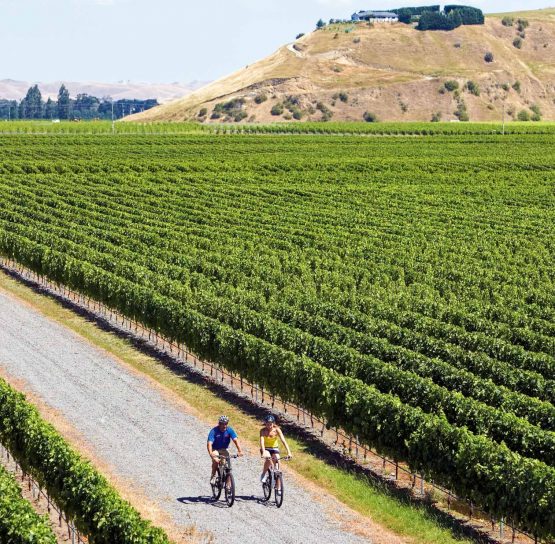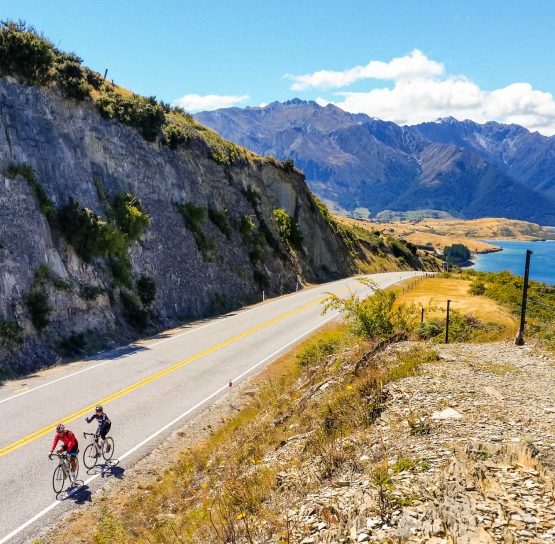 Breathtaking scenery, pristine coastline and zero traffic are just a few reasons why New Zealand is a cyclist's Trip of a Lifetime. Our 10-day tour sweeps across the north end of the South Island, then curls down the west coast to Queenstown – from the Maori lands on the Banks Peninsula through provincial farms, sheep stations and villages, along tropical coastlines and past ancient glaciers, finally finishing in the vineyards of Central Otago's wine country.
Day 01
Meet in Christchurch. Bike the Canterbury region's Greta Valley, tucked between two rivers.
Lodging
Heritage Hanmer Springs
Meet us in Christchurch. Shuttle a bit north to Canterbury. Today, ride through the Greta Valley's peaceful farmland toward the Southern Alps. Spend tonight in Hanmer Springs, a resort town famous for its natural hot springs. Enjoy a visit to the hot pools and spa before dinner.
Day 02
Ride to gold-rush era Reefton via Lewis Pass.
Meals
– Breakfast
– Lunch
– Dinner
Lodging
Lantern Court Motel
Today, bicycle past ranches and farms into the birch forests. Ride down Lewis Pass onto the western side of the Southern Alps through the rolling hills to the gold-rush town of Reefton. Enjoy a gourmet picnic near a hanging bridge just outside town. Cruise through the rolling hills to an afternoon stop for Hokey Pokey ice cream. Stay tonight in Reefton, a town that's as famous for its decision not to sell out to the mining companies as it once was for the gold panned in its streams and rivers.
Day 03
Bicycle Buller Gorge, then pedal to the pancake rocks of Punakaiki.
Meals
– Breakfast
– Lunch
– Dinner
Ride through the Buller Gorge today, whose pink granite walls boast New Zealand's longest swing bridge, and are also the gateway to Paporoa National Park and the spectacular blowholes of Punakaiki.
Day 04
Visit Hokitika; ride from Ross into Westland National Park. Stay tonight in Fox Glacier, in the rainforest at the toes of the glacier whose name it bears.
Meals
– Breakfast
– Lunch
– Dinner
Lodging
Bella Vista, Fox Glacier
Head south beside the coast today. With its stunning scenery and next-to-no traffic, the remote west coast of New Zealand is considered one of the best places on earth to ride. This morning, visit Hokitika, famous for its jade – also called 'Pounamu' or 'Maori greenstone.' (Want to purchase a New Zealand cycling jersey? Hokitika is the best place to do so.) Ride south from Ross into Westland National Park. Stop for a moment to admire the dazzling views of snow-capped peaks surrounding Lake Mapourika. If there's time and you're up for it, continue riding to the town of Fox Glacier. Or hop in the van, head to the town and catch up on your laundry this afternoon.
Day 05
Explore Fox Glacier on a heli-hiking expedition today (included with your tour.)
Lodging
Bella Vista, Fox Glacier
Explore the Fox Glacier on a heli-hiking expedition today (weather permitting, included with your tour.) Access parts of the glacier where its forces often create spectacular ice caves and arches. Equipped with leather boots and other equipment, hop aboard the helicopter for a flight right over the pinnacles of the lower icefall where the ice is in constant motion and constantly changing. After landing on a remote stretch of the glacier, your guide outfits you with crampons designed especially for these ice conditions. Follow the ice steps cut by your guide. Explore the amazing formations and ice caves which are only seen here. Every expedition is completely unique due to the ever-changing ice. If flying isn't an option, you'll enjoy the glacier hiking expedition from the base instead.
Day 06
Ride south again, to Lake Moeraki and the Wilderness Lodge.
Meals
– Breakfast
– Lunch
– Dinner
Lodging
Lake Moeraki Wilderness Lodge
Ride the spectacular southern West Coast today, beside the glittering Mahitahi river. Play peek-a-boo with Mt. Cook and the coastline. Finish at Lake Moeraki's Wilderness Lodge, in the heart of the South West World Heritage Area. This amazing lodge is completely off the grid in an area largely unchanged since the Polynesians first landed here. We guarantee your stay here will be one of your favorite memories from the trip.
Day 07
Spend the day exploring from Lake Moeraki's Wilderness Lodge. Plenty of options to choose your own adventure!
Meals
– Breakfast
– Dinner
Lodging
Lake Moeraki Wilderness Lodge
Choose from one of the Wilderness Lodge's multiple guided nature excursions today. Paddle the lake in one of the lodge's canoes. Take a guided hike through tropical forest to Monro Beach on the wild coast. Here the ocean is a spectacular rich turquoise, thanks to deep, clear water and zero pollution.) Ride a flat, deserted stretch of coastline to Jackson's Bay where a tiny fishing village perches at the end of the spit. Whatever you choose, don't miss the post-dinner evening walk to see the glowworms on the hillside and gaze at the Southern Cross.
Day 08
Ride Haast to Makarora – or from Moeraki to Lake Wanaka.
Meals
– Breakfast
– Lunch
– Dinner
Today, hop in the van and boost ahead to Haast, then ride from Haast Villagepast stellar views of the rugged coastline and seals basking in the sun. Turn inland to bicycle beside the Haast River as it winds toward snow-capped peaks, passing countless waterfalls as you climb up to 1,860′ Haast Pass. Descend to Makarora, where the countryside becomes notably drier as the dense tropical foliage gives way to open countryside dotted with sheep and lined with sun-drenched vineyards. (Inside scoop: if you want to do a 146km ride today, let your guides know – that's one of the options available!)
Day 09
Ride from Wanaka to the Cardrona Hotel. Then it's up and over the Crown Range and down to Arrowtown.
Meals
– Breakfast
– Lunch
– Dinner
Ride from Wanaka through the Cardrona Valley to one of New Zealand's oldest and most iconic inns, the Cardrona Hotel. It's certainly one of its most photographed: the inn was the setting for the 'Prancing Pony' in the Lord of the Rings films. Bike up and over the Crown Range – or van up if you prefer. Views from the top are spectacular! Ride down to Central Otago's historic Arrowtown for lunch. Explore the town a bit. You'll stay here tonight, at the Millbrook Resort.
Day 10
Finish with a ride into Queenstown
We wrap up our tour in the morning after a short ride from Arrowtown to Queenstown. If you are looking for a way to fill your afternoon., there are ample recreation opportunities in Queenstown: Winery tours, bungee jumping, jet-boating, and rafting, to name just a few.
Dates
Guaranteed
This means that the tour will definitely depart as scheduled and not be canceled.
Price
Availability
Guaranteed
This means that the tour will definitely depart as scheduled and not be canceled.
Ready for Your Next Adventure?