Olympic National Park Hiking Tour
Discover and explore what we ultimately strive for in a cycling vacation–which is to simply "Pedal Happy".
Close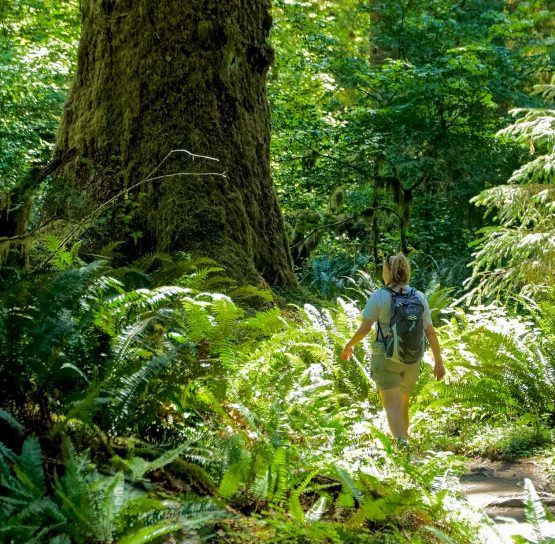 This was a relaxing tour to a beautiful place with a knowledgeable guide. The diversity of hikes and time for relaxation were made for an enjoyable week. Our guide was great, always on time and full of information.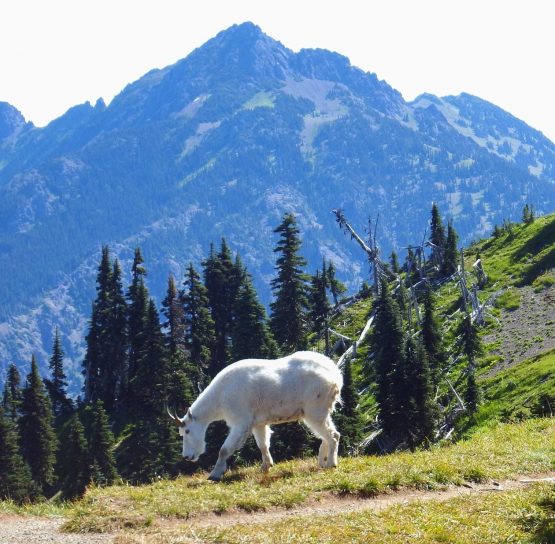 An excellent small group experience led by an awesome guide to explore a fascinating national park with coast, rain forest and mountain environments. Excellent food and lodging promoted relaxation.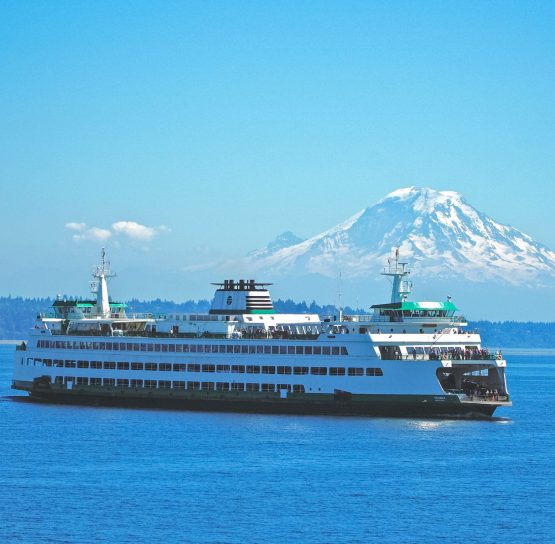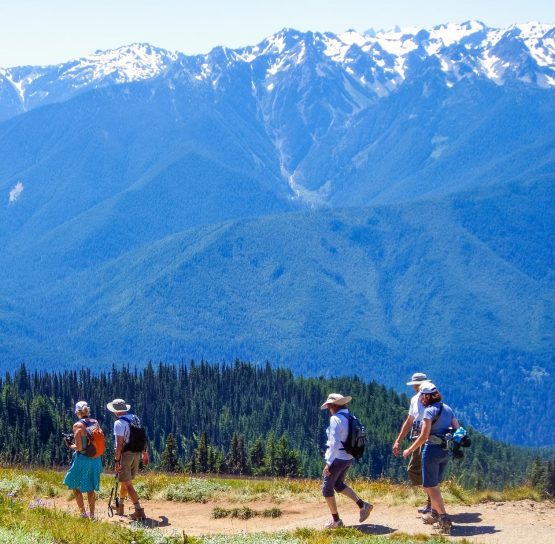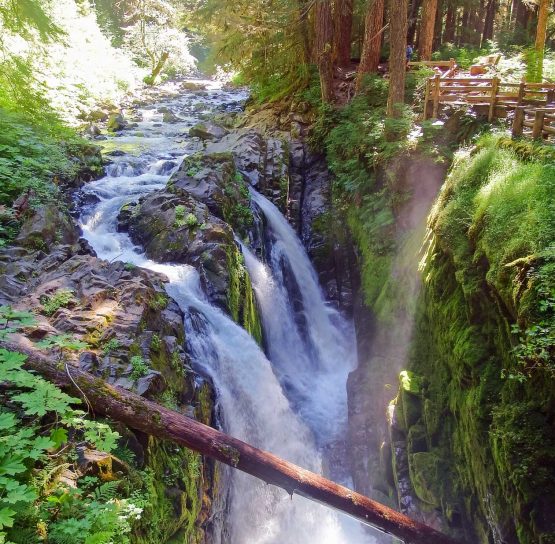 "Olympic National Park will steal your heart like no other." – USA Today
Bicycle Adventures hiking tours are now being operated by our sister company Evergreen Escapes, who specialize in hiking trips in the Pacific Northwest.
Hike through temperate rainforests – inland and coastal – plus wild beaches, lowland and alpine lakes and snow-capped mountains. The Olympic Peninsula has it all! Home to the largest of the four North American species of elk, the Roosevelt elk, and the Blue Glacier, the lowest glacier in the contiguous United States, Olympic National Park has become the 6th most-visited of our National Parks, attracting travelers from all over the world. In 1976 it was designated a UNESCO Biosphere Reserve and later a World Heritage Site as well. Not one single road, paved or unpaved, crosses this 1500 square mile wilderness. July is the ideal time to visit, weather-wise. The crowning jewel: stay at two iconic National Park lodges along the way!
Led by staff naturalist and longtime guide Chad Maurer.
National Parks on This Tour: Olympic National Park
This tour is operated under special use permit/s with the Olympic National Park. Bicycle Adventures and Evergreen Escapes are equal opportunity providers.
Day 01
Head to the remote Olympic Peninsula for a hike in the old-growth rainforest near Lake Quinault.
Lodging
Lake Quinault Lodge
Elevation
100 ft gain
600 ft elev.
To the Northwest Coast natives, Quinault means "river with a lake in the middle." It is the name of the land and lake as well as the tribe who lived there. The Quinault River Basin famously holds six different species of record-sized trees – some as much as 25 stories tall! It's a bit of a drive from Seattle this morning, but once you reach the lake you'll be in the Big Trees before you can get out of the van. Walk the network of trails around the lodge and along the lake this afternoon to see some of the largest western red cedar, Sitka spruce, western hemlock and Douglas fir trees on the planet. Learn about the largest remaining temperate rainforest in the U.S. Spend the night in historic Lake Quinault Lodge.
Day 02
Head to the Pacific Coast, explore the tide pools of Brown's Point, and watch the sunset at Ruby Beach.
Meals
– Breakfast
– Lunch
– Dinner
Distance
2 miles trail hiking
5-7 miles along the beach
In the native tongue, Kalaloch (pronounced 'clay-lock') means "a good place to land." Breakfast in the Roosevelt Dining Room where 'FDR' once had lunch, then visit one of the largest western red cedars in the park en route to the coast. In sharp contrast to the soaring inland forests, forbidding-looking tangles of gnarled spruce and wind-whipped shore pines line the coastal beaches. Keep an eye out for scurrying shorebirds, surf-riding scoters and soaring bald eagles as you wander across the sparkling sands. Explore the tide pools and rocky headlands of Brown's Point at low tide. Tonight, the garnet-tinged sands and offshore haystacks of Ruby Beach form the perfect sunset backdrop. Spend the night oceanside just down the beach at Kalaloch Lodge at Olympic National Park.
Day 03
Hike the most famous rainforest in Olympic National Park. Head to LaPush of 'Twilight' fame.
Meals
– Breakfast
– Lunch
– Dinner
Lodging
Quileute Oceanside Resort
Elevation
300 ft gain
800-1000 ft elev.
Hike the most famous rainforest in the park. Hoh means "whitewater," an apt description for this boulder-strewn, braided ribbon of a river formed from the glaciers on Mt Olympus. Begin at the Visitor's Center on the Hall of Mosses Nature Trail. Continue up the Hoh River Trail to Mt Tom Creek for lunch by the river. Watch for an elk herd or the occasional deer. Colonnades of spruce stretch toward the sky high above the canopy. Bigleaf maples spread out over green meadows. Lichens and mosses run wall to wall and floor to ceiling. There is more biomass here per acre than anywhere else on the planet: you will inevitably run out of different ways to describe "green."  Fall asleep to the sound of the crashing waves of the Pacific Ocean outside your window again tonight at the Quileute Oceanside Resort in La Push.
Day 04
Explore the beach along the wild coast.
Meals
– Breakfast
– Lunch
– Dinner
Lodging
Quileute Oceanside Resort
Distance
4 miles along the beach
Head up the coast this morning. Hike from Rialto Beach to Hole-in-the-Wall. Mountains of driftwood mark the high tide line along the shore. Dally amongst colorful tide pools, spying on sea stars, sea anemones and tiny fish. Watch for whales, sea lion, otter and pelagic birds offshore amid towering sea stacks. No need to change lodgings today: head back to Quileute Oceanside Resort to spend your afternoon as you wish. Relax on your balcony with the beach at your feet or explore more beautiful beaches and haystack rock formations, all within walking distance of the resort.
Day 05
Visit Sol Duc Hot Springs. Hike to the falls and up to Deer Lake, or back to the hot springs.
Meals
– Breakfast
– Lunch
– Dinner
Lodging
Red Lion Port Angeles
Distance
Sol Duc Falls
2 miles
Deer Lake
8 miles
Elevation
Sol Duc Falls
200 ft gain
2000 ft elev.
Deer Lake
1700 ft gain
2000-3600 ft elev.
Famous for its wild salmon and steelhead runs, Sol Duc means "sparkling water." This morning, visit Sol Duc Hot Springs, where legend has it that two badly behaved dragons – Sol Duc and Elwha – were imprisoned in deep caverns high in the mountains. The hot tears they still weep supply the waters for the hot springs along these rivers. Hike first to Sol Duc Falls, where beams of light filter through the emerald forest canopy to play on the waters. Beyond the falls, choose whether to return to the resort and bathe in hot dragon tears – or continue up the trail (literally) to Deer Lake, a tiny mountain gem set in alpine meadows and magical forest. Tonight, head to the shores of the Strait of Juan de Fuca.
Day 06
Hike Hurricane Ridge before heading back to Seattle via a sunset ferry ride.
Meals
– Breakfast
– Lunch
Elevation
700 ft gain
5100-5800 ft elev.
Celebrate with an ascent to the highest point of the tour: Hurricane Ridge, just above Port Angeles. Hike through alpine meadows and tree islands, dodging black-tailed deer, mountain goats and shaggy-coated Olympic marmots until you reach Hurricane Hill. Sweeping views of the Olympic Mountains to the south and the Strait of Juan de Fuca and Vancouver Island to the north await your camera. Following your trip into the high country, return to Seattle via a spectacular sunset ferry ride through the Puget Sound archipelago.
*Bicycle Adventures operates under special use permits while on Federal Lands managed by the National Forest Service (USDA), National Parks and Bureau of Land Management. In accordance with Federal law and U.S. Department of Agriculture policy, this institution is prohibited from discriminating on the basis of race, color, national origin, sex, age or disability. (Not all prohibited bases apply to all programs.) To file a complaint of discrimination: write USDA, Director, Office of Civil Rights, Room 326-W, Whitten Building, 1400 Independence Avenue, SW, Washington, D.C. 20250-9410 or call (202) 720-5964 (voice and TDD). USDA is an equal opportunity provider and employer.
Dates
Guaranteed
This means that the tour will definitely depart as scheduled and not be canceled.
Price
Availability
This is not required. It is an optional fee to allow a solo traveler to guarantee a private room for the duration of the tour.
Guaranteed
This means that the tour will definitely depart as scheduled and not be canceled.
Guaranteed
This means that the tour will definitely depart as scheduled and not be canceled.
Evergreen Escapes
See our Mt. Rainier tours, Columbia Gorge tours, Olympic National Park tours, Seattle Mountain Bike Tour, wine tours and more!