When the angle of the sun drops low and the days get short, we cyclists can either hang up the bike – or change up some of our standard riding gear and continue to enjoy the dark/cold/wet part of the year.
It takes a lot of gear to battle the winter. Here in the Pacific Northwest you need booties, jackets, gloves, leg warmers, hats, fenders and lights.  Notice: all of those are plural.
Lights are pretty much at the top of my list. What is important in a light for me?  I need to see and be seen. Lights need to be affordable and very easy to maintain.
Here's the short and sweet:
In the back, you'll need 2 lights: one that is blinking and one that is solid. The blinking light helps the cars notice you; the solid gives the driver's eye more accurate depth perception. I place these at different points on my backside. Normally I'll put my blinky light high on my backpack or jersey pocket and the solid light lower on the bike.  I try to aim the solid light so there is a little glow down onto the black pavement. 

I want the brightest lights I can get!  My go-to light is the NiteRider Solas. It works, it's bright, it's affordable and I only charge it once a week. It's very easy to see in the daytime and on the darkest, wettest nights.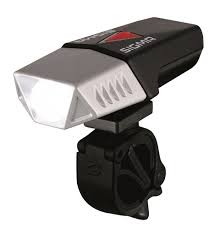 The front of your bike is a trickier situation.  The lumens required to light a dark road or trail require a lot more electricity.  I have had plenty of inexpensive lights and one that cost more than the GDP of some small nations.  So I'll save you the quest and tell you which lights to get: the Sigma Buster 200 and the Sigma Buster 600.  You'll want both. They are affordable, durable, plenty bright, easy and fast to charge (USB) and great in the Pacific Northwest rain.
I put the Buster 200 on my helmet and the 600 on the handlebars. If I'm riding with traffic, the helmet light goes on blinky mode and the handlebar light is solid and bright.  If I'm mountain biking, I put both on full bright. They take about 15 seconds to mount to just about anything, without any tools.  I really cannot say enough about these lights.
I just called Sigma to see if they wanted to extend a special deal to our guests. And they did! So here you go:  Bicycle Adventures and friends get 25% off + free freight on both of the Sigma lights above.  
To get the deal: go to www.sigmasportstore.com and enter both of these promo codes:  "BUSTER25" and "FREESHIP"
– Matt Paul, Bicycle Adventures Operations Director