There's nothing quite like the Big Island of Hawaii—it's a true tropical paradise. One of the best ways to check out the Big Island is with an adventurous Hawaiian bike tour. While it's easy to check out the majority of the island by car in a single day or two, there's no better way to explore Hawaii than by hopping on a bike and riding along its beautiful, scenic highways. Here's a quick breakdown on some of the things that you can check out while cruising around the island on a bike.
When visiting Hawaii, most people fly into the Kona International Airport. If you decide to take the Bicycle Adventures tour, you'll start off in beautiful Kona, which is home to gorgeous coffee plantations, astounding lava fields and ancient Hawaiian historical sites. In fact, during the final years of his life, the legendary King Kamehameha lived in the area around Kona. When riding around Kona, you can head on over to the Waimea ranchland to get a good idea of what the ranching lifestyle is like in a tropical locale like Hawaii.
Nearby Hilo is located on the tropical side of Hawaii's Big Island. Since that side gets a little more of that warm Hawaiian rain, it's crammed with lush gardens and an astonishing variety of flora and fauna. Some of the biggest green sea turtles in the islands spend their days sunning and swimming off Hilo's shores. Hilo is also considered the official gateway to the volcanic Kohala Coast, and there are some wonderful coastal roads to cycle. Be sure to check out some of the town's stellar shops and eateries, like Mauna Loa Macadamia Nut Factory, Hilo Hattie or the Hilo Farmers' Market, where you'll find an amazing variety of just-picked tropical fruits, mouthwatering regional foods and handmade local crafts unavailable anywhere else.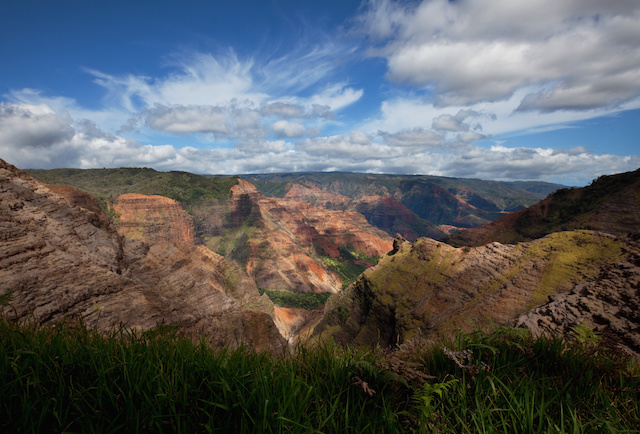 After checking out Hilo, head south and into Hawaii Volcanoes National Park for a couple of nights. The terrain here is very different, due to the drier southern exposure, the elevation (3,000+ feet above sea level) and the active volcano. For an up-close-and-personal experience, hike across the moonscape of Kilauea Crater and into the Thurston Lava Tube. Depending on the current mood of the volcano, on some days you can ride your bike along certain portions of the rim—and if the volcano cooperates, there are areas where you can actually watch red-hot magma flowing into the ocean!
When riding down from Kilauea, you can head on over to Punalu'u (which is famous for its black sand beaches). If you've timed your trip accordingly, you'll likely see green sea turtles sunning onshore. As part of your Bicycling Adventure tour, you'll continue along the island's turning-to-westward shoreline for a stop at the City of Refuge, an historical site where – in ancient times – islanders could flee for protection after committing a crime. Wander the queen's path, play some ancient Hawaiian games, marvel at the wooden statues and maybe dip into the water for some great snorkeling here. This area is not far from Kona and you'll find it lined with coffee plantations, many of which offer fascinating tours. Be sure to pick up some decadent Kona coffee while you're there!
For the final part of your trip, you'll most likely continue up to the island's north coast. Pedal past enormous fields of black lava rock where topsoil hasn't yet had time to form (since 1983, the volcano has added over 500 acres of new lava land to the Big Island!) The Kona Ironman cycling route takes place along these roads: no matter the time of year, you'll see plenty of other cyclists out on training rides. As you continue north, the terrain continues to change: lava fields turn to grasslands, then to wiry brush and finally to dense undergrowth and palm trees. Not quite as tropical as Hilo, the northern stretch of the island's shoreline is less inhabited and feels quite remote. It boasts a number of white-sand beaches, and when the surf's up, the north shore is the place to watch for the biggest waves and the strongest surfers.
Whether you decide to cycle on your own or with a Bicycle Adventures tour, you can't go wrong with a cycling adventure on the Big Island of Hawaii. It's honestly the trip of a lifetime!