Cycling has never been so popular. Thanks to the increase in oil prices and the rise in the global green movement, folks around the world are relying less on cars and more on greener modes of transportation such as cycling. So it shouldn't come as a surprise that the cycling industry is also seeing a boost in total sales.
Taiwan ranks not far behind China when it comes to production of bicycles. Generally speaking, China specializes in producing more – as an article in The Financialist notes – "low-end units" (bikes retailing for around $100) while Taiwan manufacturers a large number of high-end road bikes. In 2009, Taiwan exported $1.2 billion worth of bikes. One Taiwanese company in particular, Giant Manufacturing Company, controls a large chunk of the market for high-quality bikes; in fact, Giant controls 10 percent of the market for bikes retailing for $2,000 or more. This has helped to bring about a sort of cycling renaissance in the island nation.
Giant Bicycles, a company founded by Taiwan's King Liu, rose to fame in the 1970s when it began manufacturing bikes for Schwinn, one of the largest American bicycle brands of that era. During that decade's oil crisis – and then in 1980 when Schwinn factory workers in Chicago went on strike – production in Taiwan rose even more dramatically. By the mid-80s, Giant was producing 75% of Schwinn's bicycles. The company branched out, producing and selling bikes under its own name and sponsoring a Dutch racing team. Now a worldwide player, Giant has grown to the point where it also owns factories in China and the Netherlands, with a 2012 revenue of US $1.8 billion.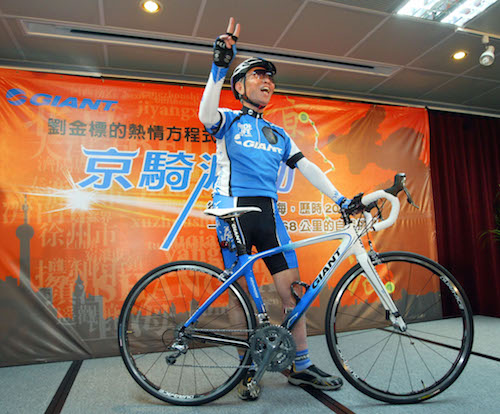 Liu, Giant's founder, has had a positive impact on Taiwan's cycling culture as well. Now in his 80s, Liu didn't actually start cycling regularly until he was in his 70s—his health, unfortunately, was often secondary to his work. In a 2013 New York Times article, he noted that once he committed to cycling regularly, he couldn't stop. Amazingly, he still rides up to 25 miles per day. He's also pushed the Taiwanese government to introduce more bike lanes and bike-sharing programs to the island. According to The New York Times, during the 2000s, 600,000 bikes were sold annually. Then, in 2008, sales surged to 1.3 million units annually. Sales currently hover at around 900,000 units. It's no wonder cyclists around the world commonly refer to Taiwan as "The Bicycle Kingdom."
The Taiwan KOM Challenge bike race hasn't hurt the country's visibility as a bicycle-oriented destination either. A one-day race that is rapidly becoming known as one of the world's toughest, the KOM (short for 'King of the Mountain') boasts a 54-mile climb starting at sea level and ascending to 10,745 feet of elevation in the mountaintops of Taroko Gorge National Park. Grades average 17% but rocket to a shocking 27% at one point – the kind of pitch that makes even pro cyclists a little green around the gills even as they salivate at the challenge.
If you're interested in visiting a country where cycling reigns supreme, you can't go wrong with a trip to beautiful Taiwan. Protected bike lanes curve beside beaches reminiscent of Big Sur's best, meander through rice paddies, and lead cyclists through tiny towns, tropical jungles and lush national parks. If you're up for a climb, the options await there as well. For more, check out the Taiwan cycling tours available through Bicycle Adventures.