Preparing for South Dakota

"There were side bets going on, I was wondering if I could relax and let others work…" I told Jill, Brad Barnard's wife, "I am going to prove them all wrong…" – Teri Smith, Bicycle Adventures guide on her first trip with Bicycle Adventures as a guest. The following story is from her Facebook Page.
Pre Trip: Leading up to this Custom "All Dawgs" Mickelson Trail tour in South Dakota, Dave, my husband, was feeling a little uneasy… By Memorial Day, however, the weekly bike rides had become fun, and on this day we hit a trail in the Columbia Gorge that would feel similar to what we would encounter on the Mickelson Trail with Bicycle Adventures. Next stop, Rapid City, SD!!!
Taking a trip as a guest, and not a guide was a first for me. Having never been in the state of S.D., I had zero expectations. Dave and I were blessed enough to find the best United Airlines employee in Portland and received standby tickets for an earlier flight out of Denver. She also went ahead and scheduled our bags to be on the earlier plane. All worked out, and all but three of the All Dawgs crew filled many seats on the 3:45 to Rapid City. (They call these trips the "All Dawgs" trips because the participants are all rowdy UW alumni.)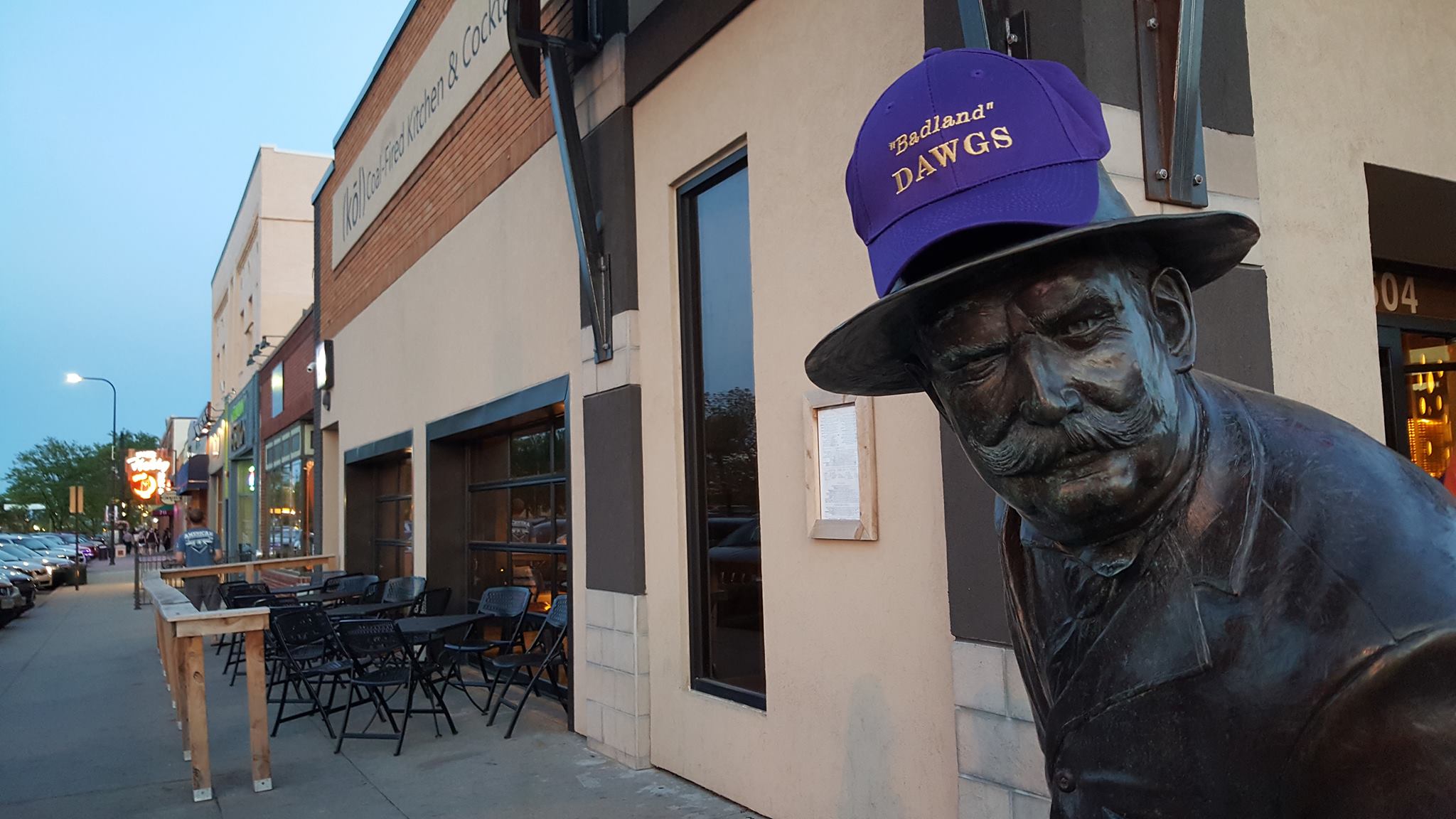 Parks, cool alleyways, surprising restaurants, presidential statues, and smiles of friendly locals filled Rapid City. We had a fabulous night with friends! After having dinner, I laid down ready to sleep. Soon after, I looked at the clock and almost immediately thought of our guides, Carrie and Renee. They were probably outside, finishing up. Maybe shopping for our lunches or trying to organize packets. Oh boy… quiet mantra in my head to let these thoughts go, I fell into a sweet slumber, ready to ride. The next morning, on our way to breakfast, I saw Todd Starnes carrying the water jug to be filled and felt a small twinge of guilt… but changing into bike clothes and sharing in the fun banter about the coming days melted those thoughts. David, my husband, was about to see what I have been doing all of these years and I was about to share a passion with him. It could not be a better day!
Day 1: Waking up in darling towns is always special. As a guide, our faces light up just as a guest's will when we see something interesting. The biggest difference between the two roles is that, as a guest, I was able to have the time to explore and discover little hidden gems. On this day, we explored Hot Springs, SD, had a delicious cup of coffee, wrote in chalk on a table, took goofy pictures of Brad Barnard (would have done that anyway), saw some incredible nature moments, watched a film about Tatankas, and had a very memorable (50th) birthday surrounded by love. Phone calls from Charlie and Jalen that weren't interrupted by work capped off a perfect day!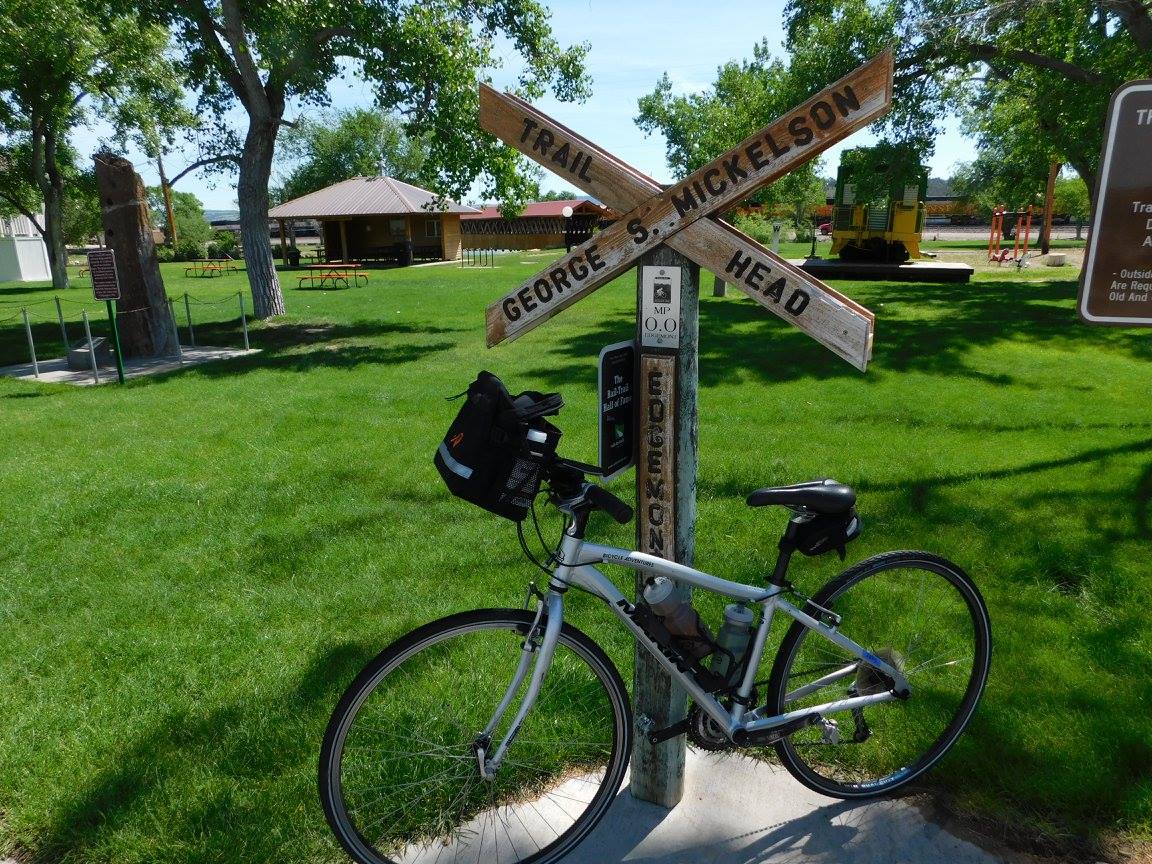 Rails to Trails…what better way to see parts of our country that only train engineers, passengers, and folks on horseback used to see.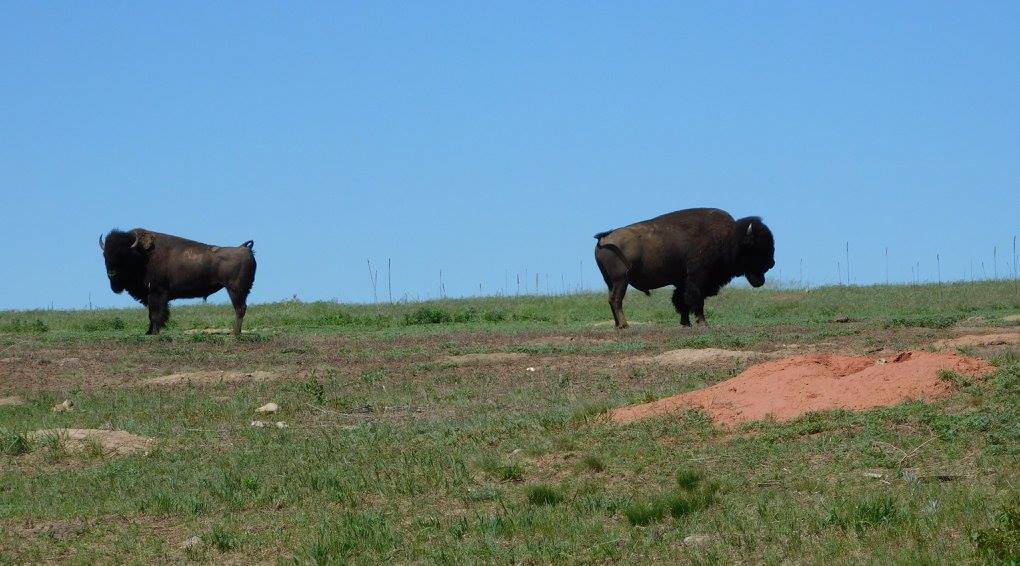 Well, hello beauties! Tatanka, or Bison, are powerful and beautiful creatures. Their eyes have stories to tell, and this day allowed ample opportunity to learn their history, see them up close in their natural environment, and to remind us all that we must stay diligent in our respect of all living things.
Day 2: The All Dawgs week with Bicycle Adventures continues to shine. After a heavy storm last night, we slept in a bit and woke to sunny skies and lower temps. Our ride is just 17 miles with about 1,200′ of elevation gain, but it bookends a visit to Crazy Horse Memorial and culminates in Custer at Sylvan Lake Lodge… read the picture caption to follow along on our memorable day!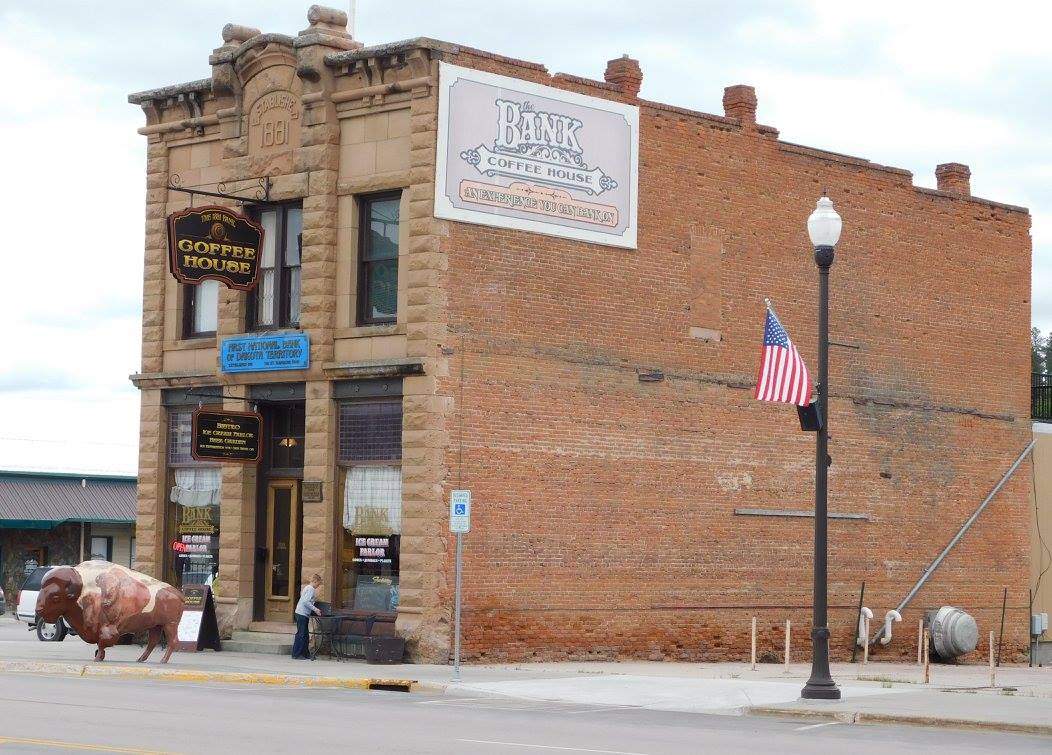 Old architecture makes me happy… and a bank turned coffee, ice cream, and beer shop makes me even more so. Perfect combo!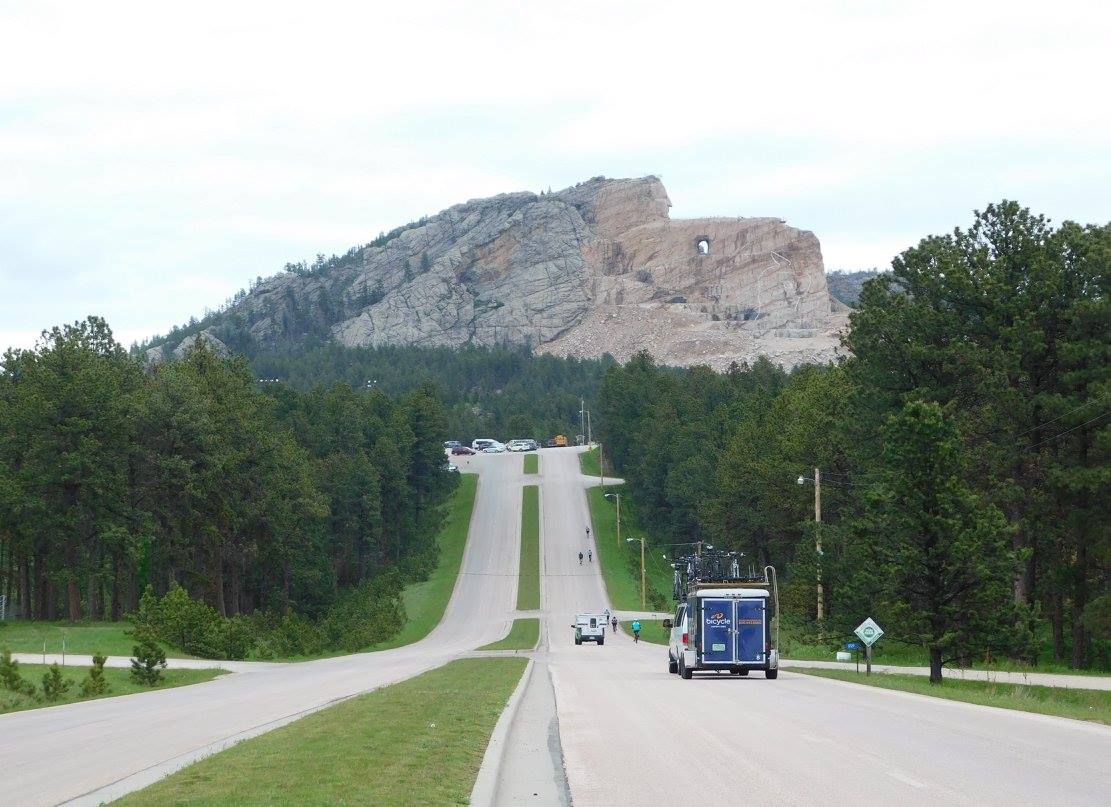 On this tour, we watch a movie, take a bus tour, and explore the grounds at Crazy Horse Memorial. There is a lot to learn, both about the family who made this happen and continues to work their father's vision and about the monument itself. Thank you for bringing us here!
Day 4: Today, our rest day, was PACKED and WONDERFUL! We asked if we could hike early, and Todd, Brad, Jill, and David joined the two of us at 6:30 a.m. for a hike to Black Elk Peak (once known as Harney Peak.) Black Elk Peak is the highest natural point in South Dakota at 7,242′. It is also the highest point east of the Rockies. Leaving early, we were able to walk without seeing other people until we hiked out, saw some mountain goats settle in place for their morning sunning, and made our way back to the lake for an afternoon paddle. A visit to Eye of the Needle and Mount Rushmore capped a beautiful and adventurous day!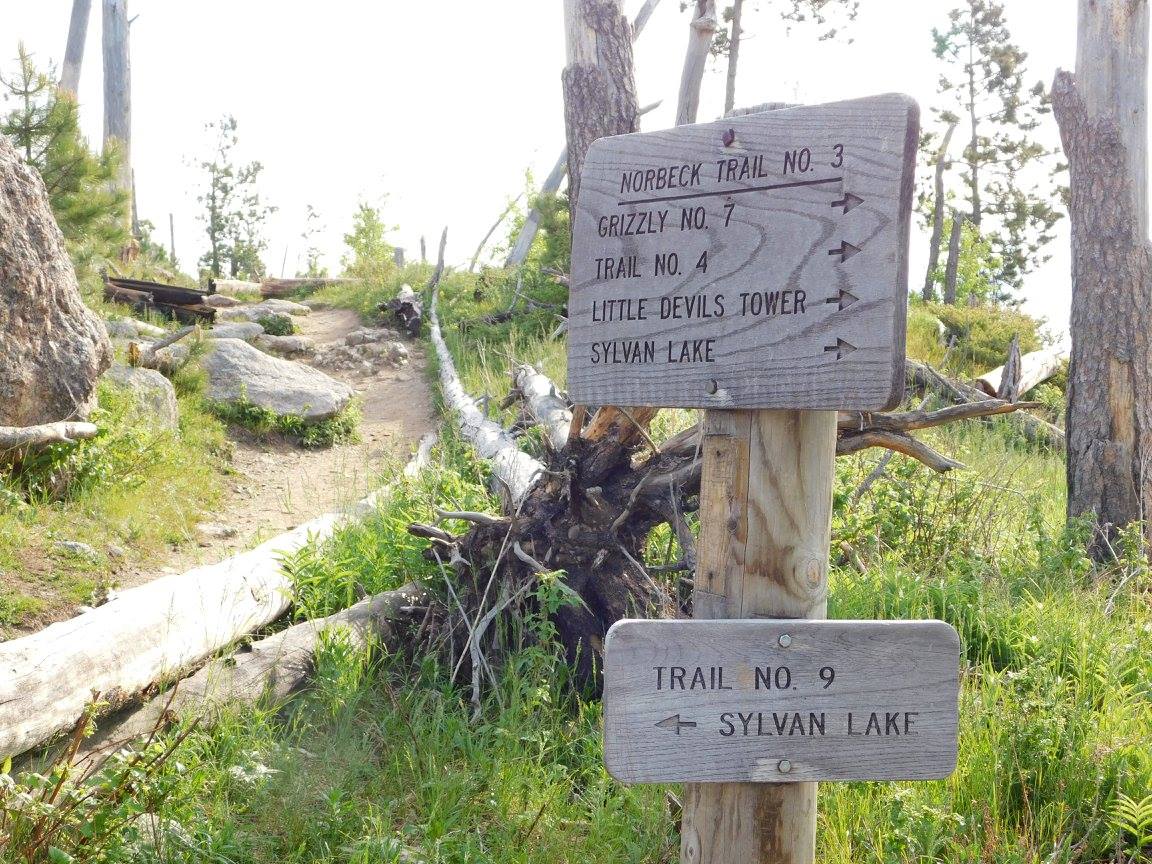 Sylvan Lake Lodge to Trail 9 to Black Elk Peak, then Trail 3 to 4 for a round trip of just about 9 miles… perfect! Sore legs all around at the end, but the BEST views and lots of stories to share. Don't miss this!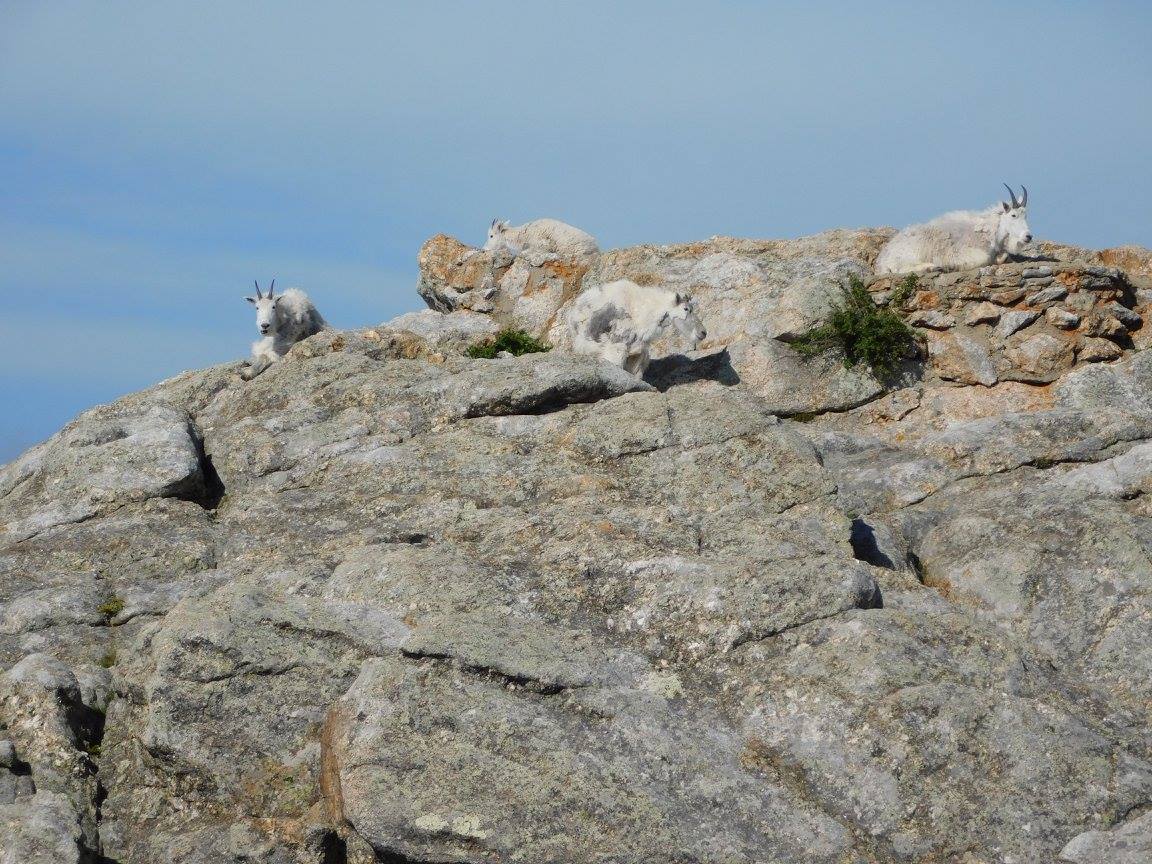 Day 5: Today our intrepid group rode from Hill City to Rochford, then into Deadwood, SD. We have 23 miles to ride with 1,300′ elevation gain… David is feeling legs today but is staying strong and intends to finish this week with over 100 miles. Others in our group (all of us!) are feeling our legs, too, but the beauty of the Mickelson Trail (well, one of the beautiful things about this place) is that the grade stays around 1-3 percent and is doable. Slow or fast, your riding style doesn't matter. Just doing it takes you on a ride through time, brings a sense of becoming one with our beautiful outdoors, evokes moments of "I can't wait for our next tour," and allows all of the senses to be present in each moment. We all feel very blessed to be able to ride this trail, and I am very much in my happy place.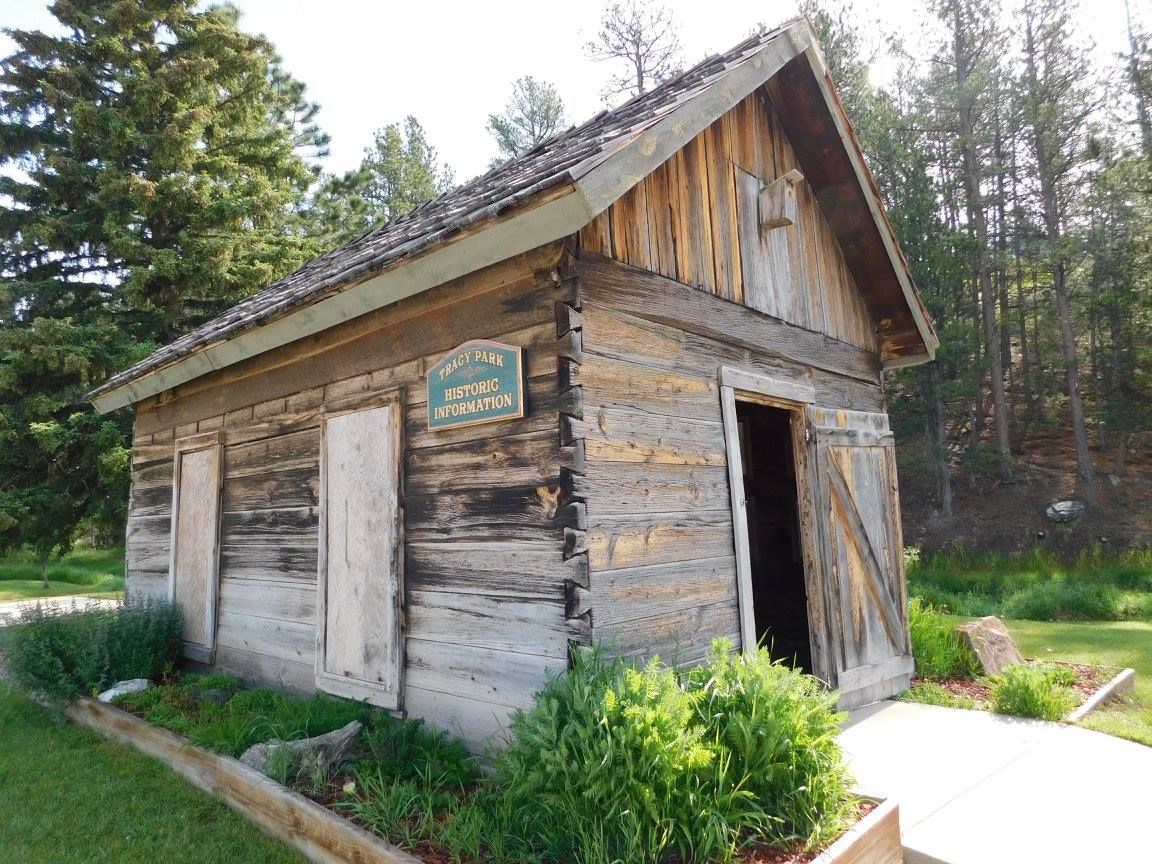 Another little gem in the city park at Hill City. Here, early in the morning with no one overseeing your time, you can walk inside this old cabin and read about the history of Hill City. South Dakota is amazing, and YOU should visit, too!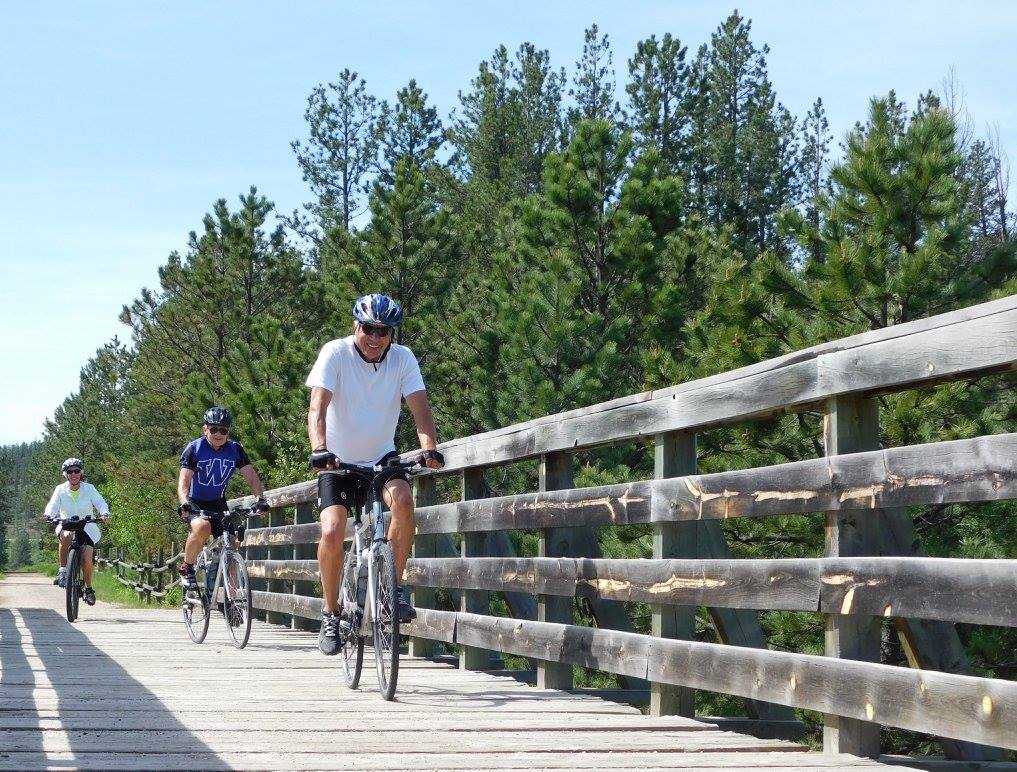 Al, Doug, and Betty enjoying the trail
Day 6: Riding in Spearfish Canyon to Cheyanne Crossing is just plain fun! We all enjoyed a nice long downhill today, and David decided that, next time, he'd like to go on the Bryce/Zion trip. I am down… you in?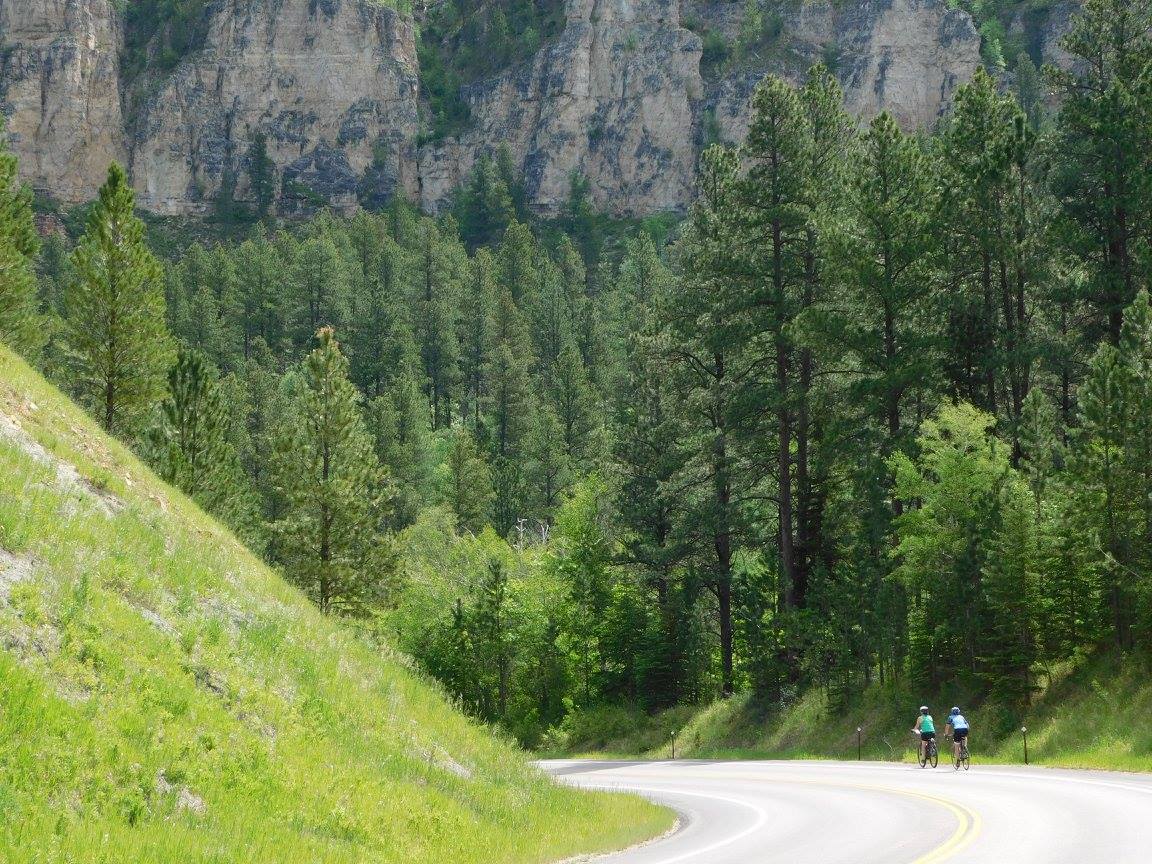 Brad and Jill take in the beauty of Spearfish Canyon. It does not disappoint.
Post Trip: To say the last six days were wonderful would be an understatement. I do believe that David and I had what was arguably the best trip we have ever taken together. To quote Dave, "I have heard that you will appreciate the country better from a bicycle. Having had that opportunity, I understand what Teri and the others are talking about. The world slows down around you, allowing you to be one with the beauty as you pedal each day, sharing time with new friends…" Brad Barnard took some photos of the two of us along the way, and I am sharing one of those now… I did not have a hard time being on a trip as a guest (sorry Deb!) but I did truly enjoy looking at what I have done for work from the other side. Renee, Carrie, and Todd did a very good job during our trip. We felt cared for, informed, pampered, heard, and each day that passed was better than the last. Being on a trip during my birthday was such a wonderful blessing, and the entire day I felt special. THANK YOU to everyone for sharing in this trip with me, and now I shall return to what I am passionate about… creating the "best vacation" experience for those I am lucky enough to guide. I really do feel like I work alongside the best in the business, and I hope you will ride with us soon so we can share our passion with you.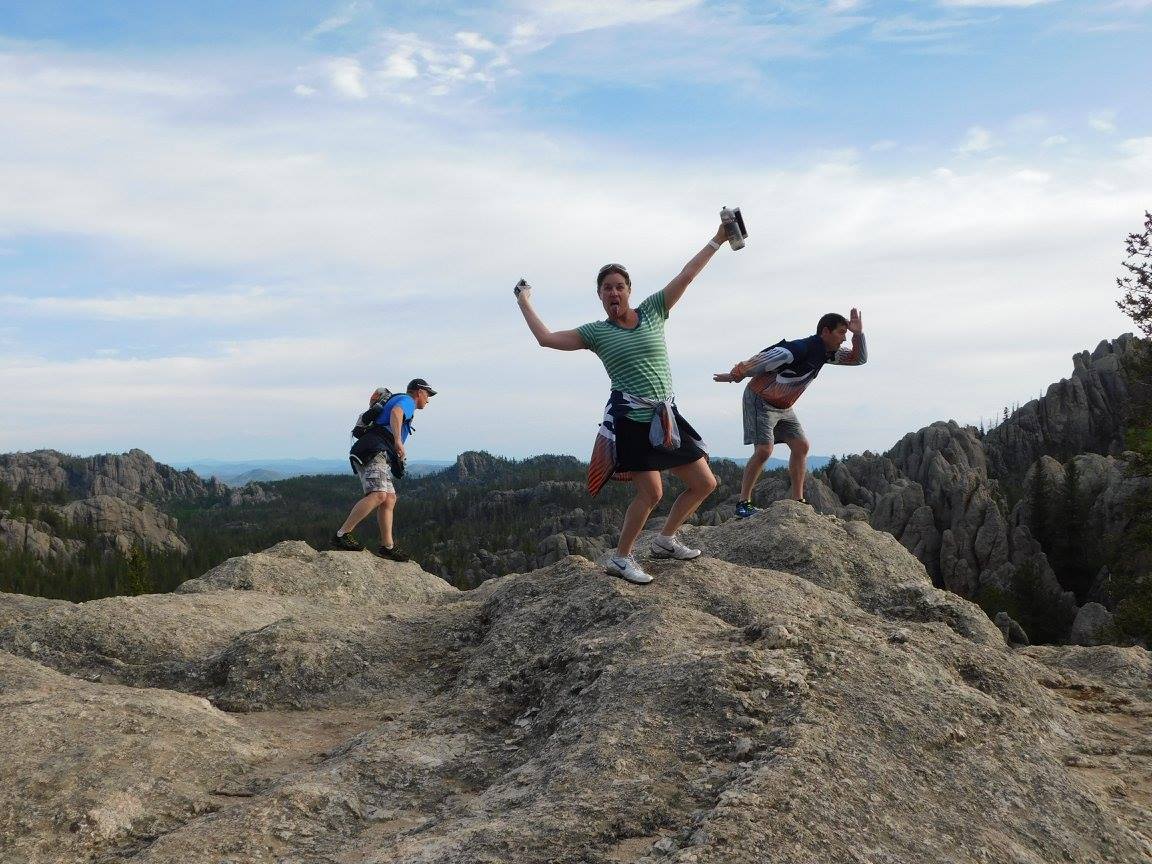 David, Jill, and Brad playing around on rocks…