Day Three: Through the valley and back to the coast
(Excerpted from Eastern Taiwan by Eleven and Nine,  originally run in  Bicycle Times, Issue 17) 
After coffee and a morning soak, I'm out of Hoya Spa and head through surrounding rice fields to Route 9 on the logical final day of the tour. On my government-issued map the final 75 kilometers forms a neat loop.
Route 9 is wide and my pace is slack. More picturesque I'm told is route 193, which runs parallel to 9 and meanders a bit more. But after two days of fairly intense riding, serious sunburn and a borrowed bike to return, I'm content to take the easier, softer way. 193 can wait for another day. I stop at a roadside café and brunch on vegetarian dumplings, stop again for iced coffee a few kilometers later in the two-street town of Guangfu, and again to stretch and take photos of a field filled with flowers and nesting cormorants.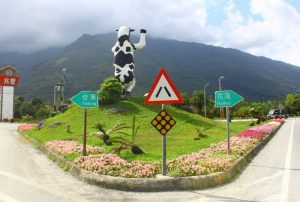 I get sidetracked for thirty minutes, seduced by an unfinished four lane highway not yet open to traffic and ending at the base of a not-yet built bridge, and wind up mildly disoriented but not in a major way. At some point I come across a statue of a cow offering directions, but this might be a heat stroke induced hallucination.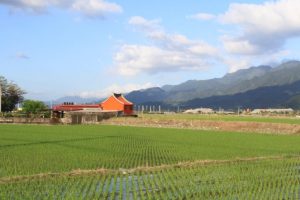 But the cow was indeed pointing the way, and I'm soon back on the right road. At this point that the central and coastal mountain ranges form a pincher, funneling all traffic into the open plains south of Hualien city, making getting lost difficult. I follow the road into the home stretch. The road is wide and beautiful, and until I get within striking distance of the city itself, largely free of traffic.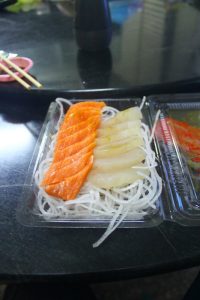 I arrive back in Hualien three days and 300 kilometers after I'd left and check into one of the local hostels. After returning my borrowed bike back to the good folks at Giant, I head to the night market to eat sashimi. Watching the sun set behind the central mountain range, I contemplate the shrines, temples and curves of Taroko Gorge … a ride left for another day.
---
Want to know more about cycling in Taiwan? Drop me a line at josh.brown@bicycleadventures.com. 
Join me on Bicycle Adventures Autumn 2015 Taiwan Tour – it'll be epic! Mention this blog for your $100 discount!
---