Greetings and salutations! I'm Joshua Samuel Brown, former NYC bicycle courier and current author of a dozen+ Lonely Planet guides (including two on Taiwan), two books of short stories (including one called Vignettes of Taiwan, which is – you guessed it – about Taiwan), and a couple-hundred articles on subjects including travel, cycling and food from exotic locations around Asia including…correct again, Taiwan!
I'm also Bicycle Adventures' newest guide. Care to guess which among BA's many enchanting rides I'll be guiding?
Correct again…Taiwan!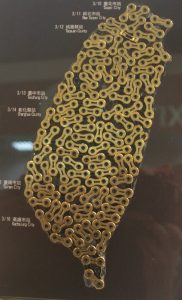 This Autumn I'll be returning to my beloved adopted island, taking a top-of-the-line touring bike through some of the planet's most exquisite scenery, riding on beautiful ocean roads, over breathtaking mountain passes and through gorgeous gorges. Along the way I'll be soaking in hot-springs, eating amazing food, and making new friends around the island.
But wait. It gets better! How?
Well, for starters, you're coming with me. (Because really, wouldn't it be a shame to do all this cool stuff alone?)
Bicycle Adventures, the planet's premier cycling adventure company, has two Autumn trips planned. Both start and end with full-immersion cultural and culinary cycling adventures through the amazingly dynamic city of Taipei, my home base for many years.
But these mini-urban expeditions are just bookends for the real adventure, which will range all over the island and include a full-day ride into volcanic Yamingshan national park, a high-speed bullet train trip down the west coast followed by a more leisurely ride down the jungle and beach filled southern tip of Taiwan, several days of riding along Taiwan's stunning east coast and inland through the Eastern Rift Valley National scenic area, and one exceptionally intense ride through the almost too beautiful for words (believe me, I know) Taroko Gorge.
I won't go into all the details in this post, as you can check out the full Taiwan itinerary here. In a nutshell, the Taiwan journey offers you a once-in-a-lifetime 11 day ride around a gorgeous, exotic and culture drenched subtropical island with a bicycling fanatic travel writer who isn't just an expert on Taiwan, but actually in love with Taiwan!
In a more compact nutshell, this Autumn's Taiwan trips are going to be Epic!
While we've got two trips planned, spaces are limited. Sign up now by calling (800) 443-6060, or email me directly at josh.brown@bicycleadventures.com.
I'm looking forward to riding with you this October!
Join the adventure. As we say in Taiwan Huanying guanglin (Welcome)! And watch this space for more about Cycling in Taiwan!
Warmly,
JSB