You're lying in bed the night before your very first bike tour. Your suitcase is full of cycling clothing and your helmet is on the table next to you. You feel excited but also a bit anxious, reminiscent of the night before the first day of school. What if no one else on the tour is nice? What if you're slower than everyone else??
Pro tip: Read our Packing for a Bike Tour 101 post for tips on what to bring and what to leave at home.
If you're not quite sure what to expect on your first bike tour, keep reading. You're about to embark on a week-long adventure, exploring new places, meeting new people, and eating great food. Let's take you through the first day step-by-step so you know exactly what's going to happen.
Step 1: Pre-Tour: Our number 1 piece of advice is to read the guest information packet! These are a gold mine of tour information: details on the daily rides, links to trip insurance, and even information on where you can do laundry on tour. Very importantly, they also contain the pickup and drop-off details (times and locations) of your tour as well as suggested pre-night hotels so that you can plan your travel accordingly. If one of the pre-night hotels offers a discount to our guests, you'll find that in the guest packet as well.
If the answer to your question doesn't lie within the guest packet, call the office or ask your guide during their pre-trip call the week before the tour.
Pro tip: search your email for "GIP" if you can't find your guest information packet. It is attached to the reservation confirmation email we send when you first sign up.
Step 2: The night before: Take a few minutes to prep for the morning. For most tours, you'll want to wear your cycling clothes when the van picks you up, so lay those out. Check the next day's weather and set out any layers you think you'll need. Go to bed at a reasonable hour so that you are well-rested for your first day of adventure.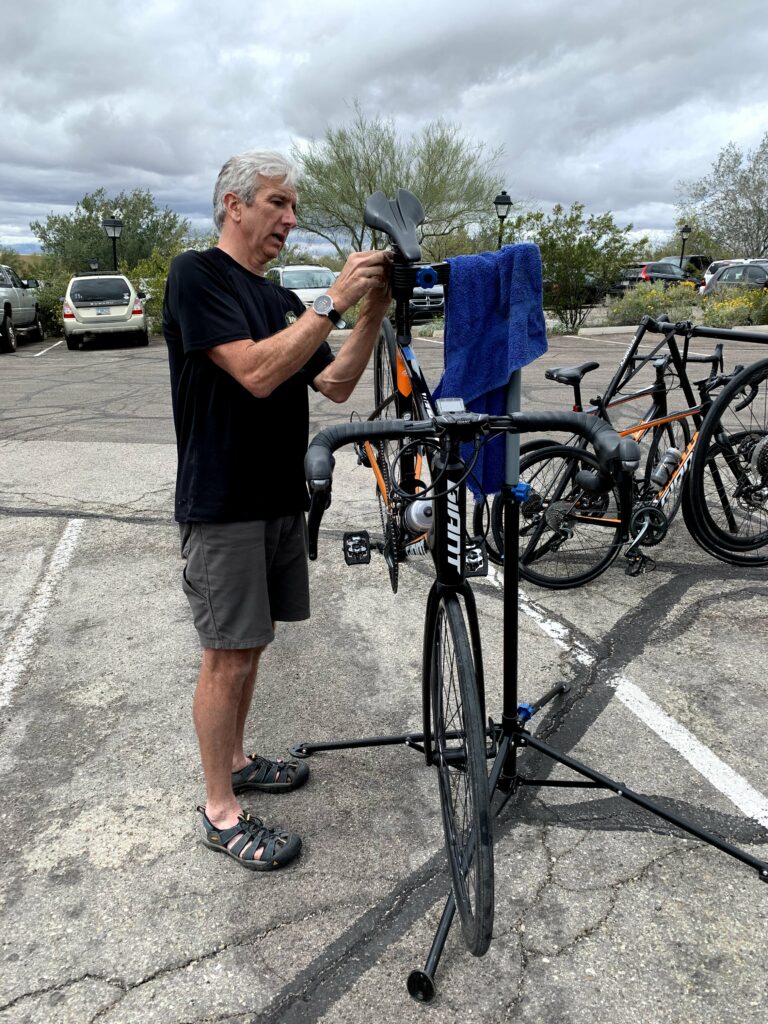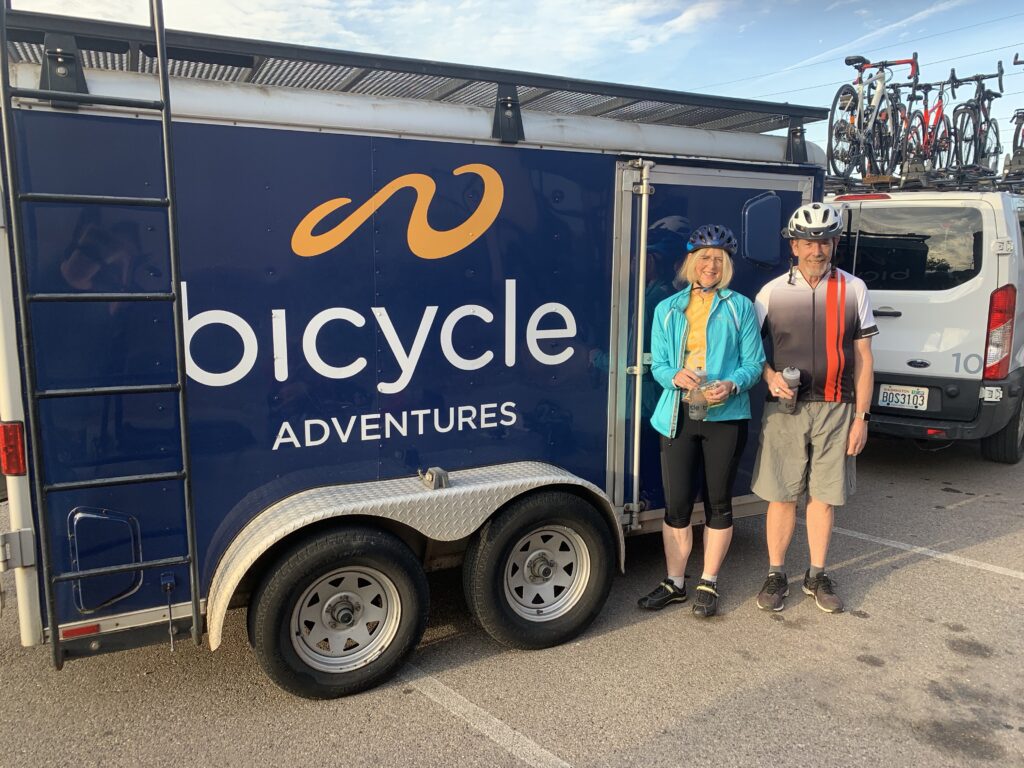 Step 3: Day 1 – Wake up and smile – it's tour day!
Get dressed and packed up. Most tours have a short to medium-length shuttle (30 minutes to 1.5 hours) before you start riding so wear comfortable shoes or sandals for the van ride. Pack your cycling shoes in your daypack, along with any other essentials you'd like with you in the van. We will have things like sunscreen, snacks, hydration, and water bottles for you, so no need to bring those with you.
Be sure to eat breakfast so that you have energy going into the day. Feel free to bring a coffee with you for the van ride or the intro talk if you are riding from the hotel.
If your pre-night hotel isn't a pickup location (remember, you'll find this information in the guest packet) then you'll need to leave time to walk or get a car to a designated pickup location. If you are staying at a pickup hotel, head to the lobby and look outside for a white van with a blue trailer. Your guide will give you a specific spot to meet.
When you see the guide, introduce yourself, we are always excited to meet you in person! Your guide will give you a packet of additional information that may include printed route maps (these will also be on your provided Wahoo bike computer), a condensed day-by-day itinerary, and may have an additional form to sign, depending on the tour. Leave your luggage by the trailer so that we can load it but be sure to keep your daypack with you so you can have it in the van. Introduce yourself to the other guests as well!
Whether you are riding from your meeting spot or shuttling in the van first, you'll have time before you start riding to do a bike fitting. If you need a helmet, grab that from the table along with your provided water bottles and find your bike, which will have your name on it. Did you bring your own pedals and/or saddle? Give those to a guide to install.
Pro tip: Put your name on the underside of your saddle with a piece of tape and have your pedals in a bag with your name on it so that we can get everything installed on the correct bikes.
Once your pedals and saddle are on your bike, put your helmet on and ride around the parking lot to see how it feels. Does the seat need to be higher or lower? Does the saddle need to be moved forward or backward? Find a guide and ask them to make adjustments as necessary. Remember that your bike won't fit exactly the way your bike at home does, but we'll do our best to make it as similar as possible.
Bike fitting can take some time, especially with a big group, so please be patient. Once everyone is ready with their bikes your head guide will do the route talk for the day. If they haven't already, they'll have everyone introduce themselves. They will do a safety talk and then go over the day's route, talking about where you'll see the van next, where the lunch stop is, and where bathrooms are available.
Step 4: Go ride!
Get on your bike and hit the road, that's why you came, after all! If your group size is larger than 4, there will be a guide out riding with the group. Be sure to obey all traffic laws and pay attention to your surroundings. Ride your own pace and be sure to stop and take photos. Keep an eye out for the first rest stop. The van and trailer will be there and shouldn't be hard to spot. Most importantly, enjoy the ride!
Pedal Happy!