Scotland's Isle of Arran Bike Tour
Discover and explore what we ultimately strive for in a cycling vacation–which is to simply "Pedal Happy".
Close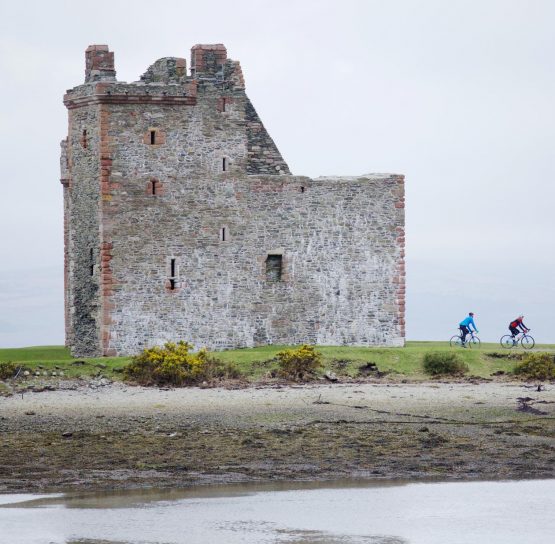 A wonderful way to vacation. Best way to view the sights. Love the physical exertion.Both guides and other participants are fun and great folks to get to know. Food and beverages are always awesome.
FUN! Challenging rides, beautiful scenery, nice cycling companions, well-trained guides and great food!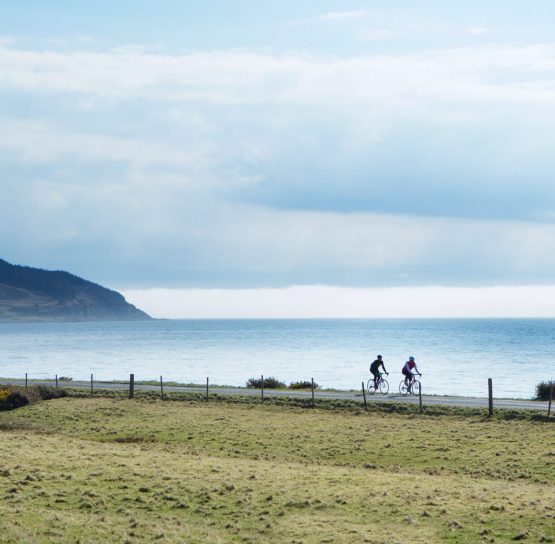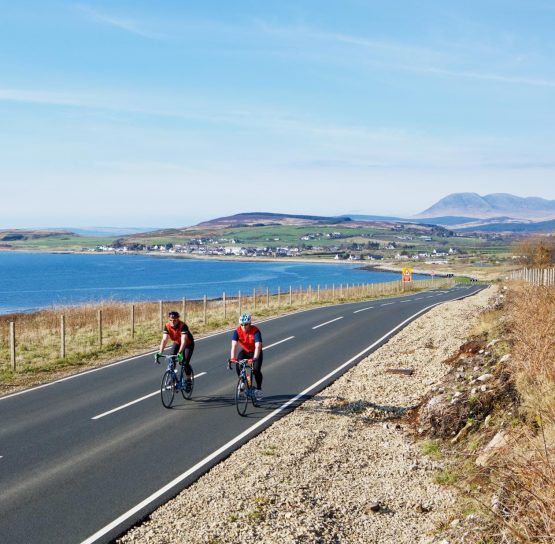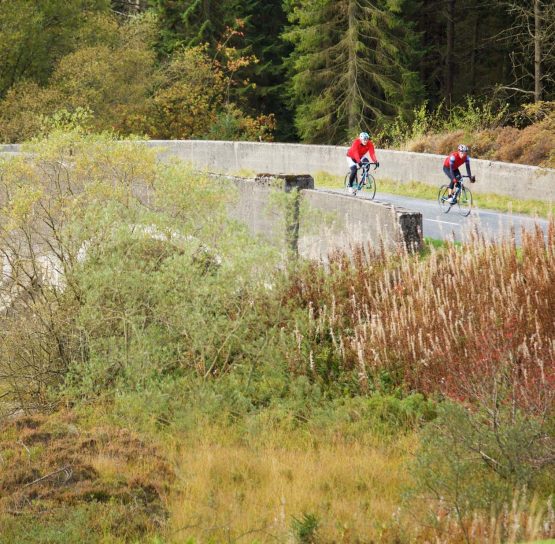 Scotland – a land of myths, legends and majestic landscapes. Make your own history on this tour of the country's magical southwest. Ride through rolling farmland and deep forest. Stop to visit ancient castles and hear stories of epic battles. Sample the craft beers and delicacies of Dumfries and Galloway. Board a ferry to cross the Firth of Clyde to Scotland's 7th largest island, the Isle of Arran. Bicycle Arran's wilderness and discover the rich natural and cultural heritage of this amazing place. Recharge at the island's own distillery and brewery. Ride the Mull of Kintyre and enjoy a final night of celebration –  including Scottish tapas and whiskey – on Arran before heading back to Glasgow.
Note: Coming in early for the August trip? Book a couple of additional nights for the Edinburgh Festival!
Day 01
Arrive into Glasgow. Ride to the birthplace of the bicycle, then on to Mabie Forest.
Lodging
Mabie House Hotel
Elevation
+2085 ft / -2297 ft
Meet in Glasgow. Drive for just over an hour to the magnificent Drumlanrig Castle. The 17th century "pink palace" is one of the country's finest examples of Renaissance architecture and makes a fitting place to commence your journey. Enjoy a virtually traffic-free shakedown ride on the estate roads. Head south through quiet and scenic countryside, passing Keir Mill where the modern-day pedal cycle was invented in 1839 by local blacksmith Kirkpatrick Macmillian. Ride onward to Mabie Forest. Stay the next two nights at a historic country house hotel.
Day 02
Explore the countryside of Dumfries and Galloway.
Meals
– Breakfast
– Lunch
– Dinner
Lodging
Mabie House Hotel
Elevation
+2849 ft / -2855 ft
Dumfries and Galloway is a cycling revelation, sporting over 700 km/450 miles of marked routes on quiet roads through beautiful scenery. Ride pure countryside where there are likely to be more sheep than cars today. Continue south, stopping by one of the best Farm Shops in Scotland for afternoon tea and cake. Bicycle onward to the quaint village of New Abbey, where a visit to the 13th-century Sweetheart Abbey is a must before the short ride back to the Mabie House Hotel.
Day 03
Ride the foodie's region of Castle Douglas. Then bike through Galloway Forest Park.
Meals
– Breakfast
– Lunch
– Dinner
Lodging
Creebridge House Hotel
Elevation
+2653 ft / -2808 ft
Today, cross the region from east to west. Bike through the 'food town' of Castle Douglas with its fantastic range of cafes, bakers, butchers and fishmongers, then turn north heading for Galloway Forest Park. Follow the shores of Loch Ken, then climb out of New Galloway into the heart of the Park. Watch for wild Red Deer and goats on this stretch of road leading to the final part of the day – a superb cruise on a gentle downhill gradient to the village of Newton Stewart.
Day 04
After a morning ride to the village of Straiton, hop a ferry and cross the Firth of Clyde to the Isle of Arran.
Meals
– Breakfast
– Dinner
Lodging
Auchrannie Resort
Elevation
+2053 ft / -1745 ft
After a relaxed Scottish breakfast, ride to the charming village of Straiton, then hop in the van for a shuttle north to reach the small ferry port of Adrossan. Board the boat and cross the Firth of Clyde to the fantastic Isle of Arran. Affectionately known as "Scotland in Miniature," the island is a perfect mix of coast, moorland and mountains. This afternoon explore the ancient ruins of the Machrie Moor Standing Stones. Rather relax at the resort?  No problem. We can drop you off to get a massage or other spa treatments at the Auchrannie Resort's ASpa or go for a swim in one of the hotels two indoor pools. Lunch is on your own today, and we stay at the Auchrannie for the next three nights.
Day 05
Do the Scotland Mull of Kintyre Whisky Ride. Finish with a dram!
Meals
– Breakfast
– Lunch
Lodging
Auchrannie Resort
Elevation
+3,563 ft / -3,595 ft
Today's ride is a true adventure involving two short ferry crossings and up to 60 miles of amazing roads and views of Arran from a totally different perspective. Bicycle north past Goat Fell, Arran's highest peak at 874 metres (2,866 ft), to an ancient castle in the village of Lochranza, then take a short ferry ride to the mainland and the Kintyre Peninsula. Ride to lunch in the scenic working fishing village of Carradale, a small, peaceful harbor with stunning views across the Sound of Arran. At nearby by Carradale Point, the Scottish Wildlife Trust has a nature reserve with feral goats, and a good example of a vitrified fort built more than 2000 years ago on a small tidal island off the headland. Our guide, Jeff Barth, has put today's route in his Top 10 rides he's ever done! After lunch, cycle back to the ferry enjoying new perspectives of this beautiful land. Enjoy a dinner on your own tonight.
Day 06
Bicycle the Isle of Arran loop, one of the country's classic day rides.
Meals
– Breakfast
– Lunch
– Dinner
Lodging
Auchrannie Resort
Elevation
+3408 ft / -3413 ft
The complete loop of the Island offers 56 miles of fantastic riding. With plenty of hills, it's a challenge, but the reward is one of the country's classic day rides. Head south from Brodick to tackle the loop clockwise, passing by Holy Isle with its Buddhist monastery. Rounding the southern end of the island, views to the Mull of Kintyre open up with Ireland just visible in the distance. Heading up the west coast, the reward in the north is a visit to the Arran distillery in Lochranza. Enjoy a wee tonic of malt whiskey before tackling the climb near Glen Sannox. On the other side, you'll find one of the best descents anywhere on a brand-new road surface. Then it's a mostly flat cruise back to Brodick and a final celebration dinner of Scottish tapas.
Day 07
After a relaxing morning, head to Glasgow.
This morning, join your guides for a pre-breakfast ride followed by plenty of time to enjoy the resort's buffet. Or skip the ride and sleep in, enjoy a leisurely breakfast and spend a bit of time exploring Brodick. Take a noon-ish ferry back to the mainland. It's just a short hour's drive from the ferry dock to Glasgow. Choose to stay on and explore Glasgow or depart from the International Airport.
Dates
Guaranteed
This means that the tour will definitely depart as scheduled and not be canceled.
Price
Availability
This is not required. It is an optional fee to allow a solo traveler to guarantee a private room for the duration of the tour.
Guaranteed
This means that the tour will definitely depart as scheduled and not be canceled.
Ready for Your Next Adventure?