RETURNING FOR 2023
Chile, International
Chile Lakes & Volcanoes
Discover and explore what we ultimately strive for in a cycling vacation–which is to simply "Pedal Happy".
Close
Amazing scenery, challenging riding, extremely helpful and friendly guides, lodging was very nice. A great way to see the country and get a feel for the rural areas which you would otherwise not see.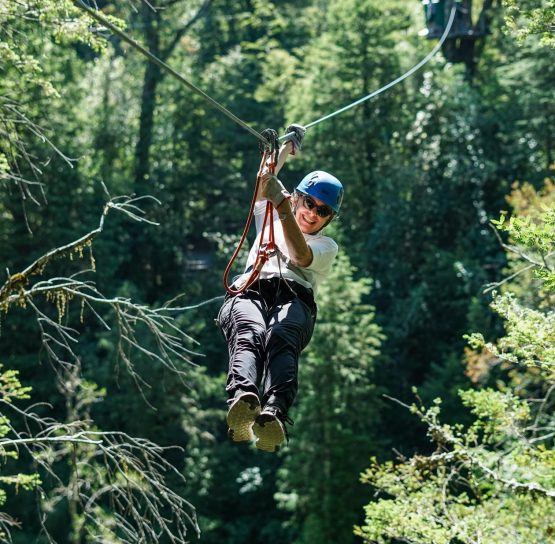 Excellent value compared to other high end trips which are more expensive for fewer days. The guides were really exceptional. Loved the group size at only 12 as we really got to know them as well as all of the guests.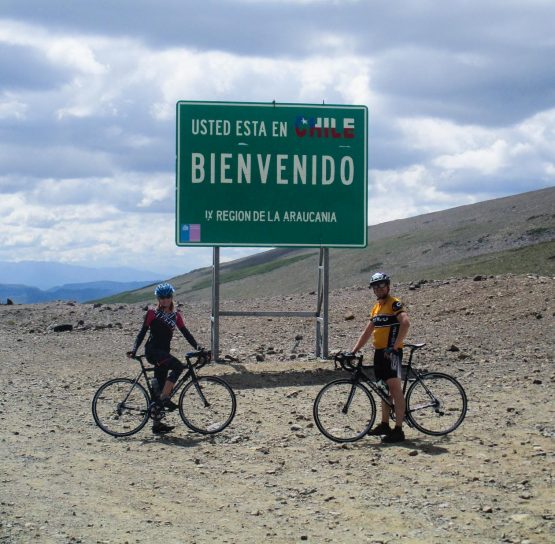 Lonquimay Volcano, Malalcahuello National Reserve and the Andes Mountains at the Alto Biobio National Reserve. Ride Pucon, Villarrica and Lanin Volcanoes and Villarrica National Park. Spend two nights in the Patagonian rainforest. Bike Chile's Seven Lakes Route and visit Huilo Huilo Biological Reserve. Pedal paved roads around Lake Ranco, and along the German Settlers Route. Weather is similar to northern California, with December temperatures averaging 65 degrees. Come ride Chile's Lake and Volcano region: an amazing, once-in-a-lifetime tour!
SPECIAL LODGING NOTE FOR 2023: Our day 5 and 6 lodging, Marina del Fuy, suffered a fire in Aug 2022, so we have been upgraded to stay at the architectural wonder, Hotel Reino Fungi.
National Parks and UNESCO World Heritage Sites on this tour: Villarica National Park
E-BIKES: Pedal-assist e-bikes are available for our Chile tour. However, they are not the same e-bikes that are described below. If you would like more specifics, contact our office for details.
Day 01
Ride from the UNESCO Araucarias Biosphere Reserve - home of "Monkey Puzzle trees" - to Lonquimay volcano.
Lodging
Corralco Hotel & Spa, or Malalcahuello Hotel & Spa
Ability Level
Intermediate
Elevation
+3508 ft / -504 ft
After meeting in Temuco, we'll shuttle 2 hours to the tiny, quaint town of Curacautín, conveniently nestled in the UNESCO Araucarias Biosphere Reserve of Malalcahuello. (Ever wonder where 'monkey-puzzle trees' live? You found it.)  Stop for lunch and a bike fitting. Take a 26-mile warm-up ride through forests of ancient araucaria trees, with Lonquimay volcano in your sights. Arrive at Corralco Hotel & Spa, or Malalcahuello Hotel and Spa, both beautiful wintertime ski resorts. Tonight, enjoy an orientation and briefing session before the official welcome dinner.
Day 02
Kütralkura Geopark and The Andes Climb.
Meals
– Breakfast
– Lunch
– Dinner
Lodging
Corralco Hotel & Spa, or Malalcahuello Hotel & Spa
Ability Level

Advanced
Elevation
+4695 ft / -1825 ft
Shuttle 30 minutes to the Sierra Nevada Range. Pass through the 2.8-mile Tunnel Las Raíces, Chile's longest. Set off bicycling smooth roads through a flat valley beside the Lonquimay River. This section features Chile's first UNESCO Geopark, Kütralkura. Bike through the lands of different Pewenche communities as you begin to climb, ascending the international Pino Hachado Pass connecting Chile with Argentina. The second half of the climb offers some serious grades, finishing with a 14-mile climb to the peak altitude of 6,181 feet above sea level. At the summit – the border with Argentina – enjoy the truly breathtaking scenery of the Andes. Rest and refuel a bit, then hop back into the van to return to our hotel. Tonight's dinner will be at a local restaurant in Malalcahuello.
Day 03
Hike into Kütralkura Geopark to Coloradito Hill for terrific views of 4 volcanoes.
Meals
– Breakfast
– Lunch
Ability Level
Intermediate
Stroll through a forest of 2,000-year-old trees. Head to Pucon, the Lake & Volcano District's adventure hub. This morning, hike from the hotel to Cerro Coloradito, a small reddish hill that boasts amazing views of 4 volcanoes: Lonquimay, Llaima, Sierra Nevada and Villarrica. Besides the fantastic views, the hike offers very sparsely-traveled trails and a stroll through an ancient forest of araucaria trees – some more than 2,000 years old! Check out from the hotel to begin the 3-hour shuttle to Pucón, the Lake & Volcano District's major adventure tourism destination. Stay tonight and tomorrow night at Hotel Antumalal. Explore Pucon this evening: your guides will be happy to provide some local knowledge about great dining and shopping.
Day 04
Villarrica National Park Loop Ride: beside the river and up the volcano - and down again.
Meals
– Breakfast
– Lunch
– Dinner
Ability Level
Intermediate
Elevation
+4594 ft / -1594 ft
Curarrehue, a small Mapuche village near the border with Argentina. The route rolls beside the river Trancura with views of three volcanoes: Villarrica, Quetrupillan and Lanin. The first 45 km of today's ride is flat-to-rolling – just enough to get your legs going. Once you're warmed up, climb a 30 km section on brand-new asphalt on the international road that leads into Argentina. Stay on this route all the way through Villarrica National Park until you arrive at the Customs station next to the mighty Lanin volcano, the tallest mountain in the Lake & Volcano District. Cruise a fun downhill all the way back to Currarehue. Enjoy tonight's dinner hosted by a local Mapuche family.
Day 05
Head into the heart of the Chilean Patagonia Rainforest.
Meals
– Breakfast
– Lunch
– Dinner
Ability Level
Intermediate
Distance
55 miles (or less)
Elevation
+4572 ft / -3412 ft (or less; the 13mi, 1700ft climb at the end is optional)
Chile's Seven Lake Route: Villarrica Volcano and Lake Panguipulli.
Each day brings new beauty; today is no exception. Ride one of Chile's most scenic roads, the Seven Lake Route. Pedal beside the shores of two beautiful lakes – Calafquén and Panguipulli – and cover three-quarters of the way around Villarrica, a majestic, snow-capped active volcano. Today's ride is smooth and quiet; hardly anyone drives this route. Stop along the way to take in a panorama of five volcanoes. Pedal by the beach of Lake Panguipulli – meaning "land of lions. Continue riding beside the lake to Choshuenco village. Stop for lunch, then we'll continue biking to Marina del Fuy, another beautiful lakeside lodge. Stay here for the next two nights.
Day 06
Explore Huilo-Huilo Biological Reserve today. Hike, birdwatch, zipline - and/or visit the onsite spa.
Meals
– Breakfast
– Lunch
– Dinner
Choose from a bevy of options today. Within the park, there are four hiking trails: the Magnetic Stones trail (3-hour hike, medium difficulty); the Truful Route (3½-hour hike, medium); the Truful River Route (6-hour hike, difficult); and Quinchamalí Lookout (3-hour hike, easy). Highlights include botanical forest, clear-water lagoons, mighty waterfalls and amazing views of snow-capped volcanoes. Would you like to learn about the reserve's plants and wildlife? There are multiple nature walks that focus on botany, birdwatching and geology as well as flora & fauna interpretation. Feeling adventurous? Take the canopy zipline tour for an amazing experience of the rainforest (not included). A group of platforms between 15 and 25 meters high (50 to 80 feet) are linked to each other by hanging bridges and suspended steel wires. Glide across the cables as though you are flying over the rainforest, rivers and canyons. Visit the Huilo-Huilo waterfall and eat lunch at the local microbrewery.
Day 07
Lake Ranco Route – A gorgeous lakeside ride.
Meals
– Breakfast
– Lunch
– Dinner
Lodging
Casa Exploradores Lodge & Spa, or Sonesta Osorno
Ability Level
Intermediate
Elevation
+2884 ft / -2897 ft
Today begins with a shuttle out of Huilo Huilo Biological Reserve to the lakeside village of Futrono where we start cycling next to Lake Ranco – a gorgeous lake surrounded by mountains and green fields full of grazing cows. After a week in Chile's Lake & Volcano District, you've probably realized that we are following a Scenic Road called "Lake and Volcano." Bicycle Adventures was the first bike touring company to offer today's route around this beautiful lake when it was first paved back in 2015. Stay tonight at Casa Exploradores Lodge & Spa in Futangue, or Sonesta Osorno in Osorno.
Day 08
See the Osorno Volcano as you ride the German Settlers Route.
Meals
– Breakfast
– Lunch
Lodging
Hotel Cumbres Puerto Varas
Ability Level
Intermediate
Elevation
+2577 ft / -2692 ft
Shuttle 70 miles to the city of Osorno. Begin riding through this region known for its German heritage. Quaint villages, rolling hills and flat stretches lead to the beach of Lake Llanquihue. Continue riding to where a unique landscape is waiting: the Osorno Volcano with its perfect cone. Enjoy an incredible buffet lunch in a German family-owned restaurant, then shuttle 20 minutes to the five-star Hotel Cumbres Puerto Varas, where you'll stay tonight and tomorrow night. Spend the evening exploring this beautiful city if you wish.
Day 09
Ride to the base of Osorno Volcano and take the chairlift to the top for some terrific hiking.
Meals
– Breakfast
– Lunch
– Dinner
Lodging
Hotel Cumbres Puerto Varas
Ability Level
Intermediate
Elevation
+4901 ft / -1254 ft
This morning, start bicycling from the hotel beside Lake Llanquihue, into the landscape of the perfect cone Osorno Volcano. The side of the volcano reaches right to the shore of the lake. Pass through the middle of this astounding landscape as you ride to the village of Ensenada. This 29-mile route is one of the most beautiful rides of the tour. In Ensenada, regroup for a quick snack and then start the most challenging climb of the trip: the Osorno Volcano. This 7-mile challenge is one of the steepest climbs in South America, if not all of Europe. If you're not up for the climb, we have another beautiful ride for you. After a glorious day, shuttle back to the charming German-style city of Puerto Varas to relax and enjoy a farewell dinner at a local seafood restaurant.
Day 10
Enjoy a leisurely morning, then it's off to Puerto Montt's airport.
It's time to say goodbye to the beautiful Lake & Volcano District of Chile. There is one complimentary 10:00 a.m. shuttle to El Tepual airport in Puerto Montt. However, since most flights leave Santiago for North America in the late evening, many guests prefer to enjoy this last morning in Puerto Varas and taxi there later. (Taxi fare to the airport is approximately $20 USD).
If you choose to spend the morning in Puerto Varas, you can walk to town to explore the marketplace and shop for souvenirs, handcrafts and the woolen clothing for which the area is known. Go paddleboarding or just take it easy. Then it's off to catch your flight back to Santiago and onward to wherever your travels take you next. It's been a trip you'll always remember!
Dates
Guaranteed
This means that the tour will definitely depart as scheduled and not be canceled.
Price
Availability
This is not required. It is an optional fee to allow a solo traveler to guarantee a private room for the duration of the tour.
Guaranteed
This means that the tour will definitely depart as scheduled and not be canceled.
BIKES (Bike models will differ.)
Ready for Your Next Adventure?