Hells Canyon & Wallowas Bike Tour
Discover and explore what we ultimately strive for in a cycling vacation–which is to simply "Pedal Happy".
Close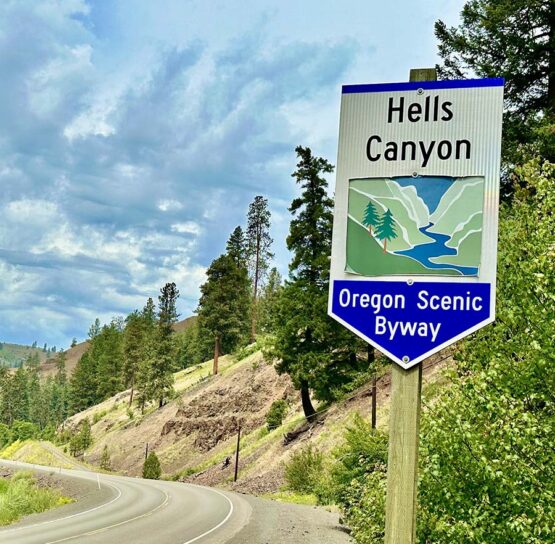 I was delighted to bike through this part of Oregon and the West. The varied terrain and distant craggy mountains were just spectacular!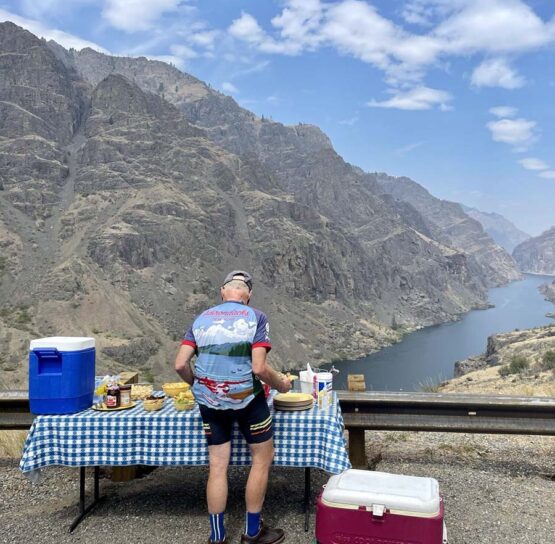 Many of the meals were in local places that were "a slice of life" and added greatly to my enjoyment. Overall, a fabulous trip!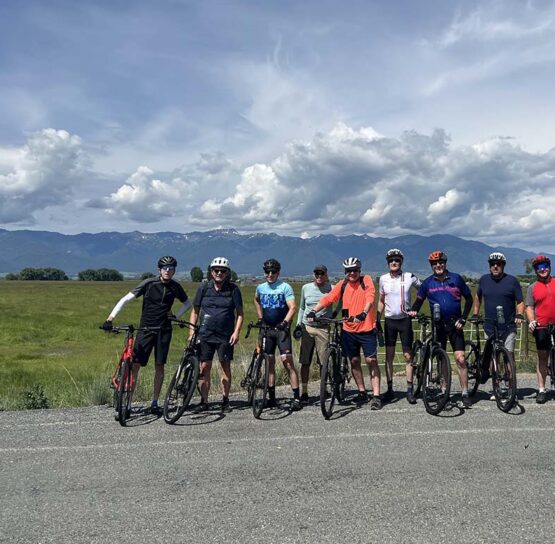 Bicycle Adventures is the very top tier of cycling tour companies and I've ridden with several, both nationally and internationally, over the past 35 years.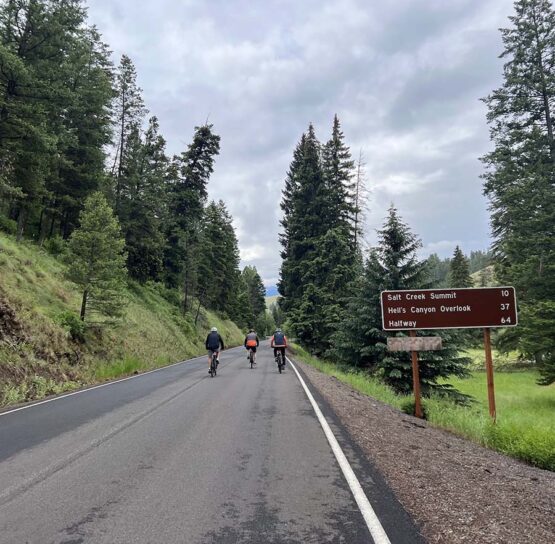 We'd never cycled in Eastern Oregon before and found it to be a great place to ride!
Ride parts of Oregon's Grande Tour Scenic Bikeway through the high plains and deep canyons of eastern Oregon. Explore historic inns, surprising taverns, and a delicious chocolate factory. Bicycle from open prairie vistas and serene farmland into the staggering beauty of Oregon's Eagle Cap Wilderness. Marvel at alpine lakes surrounded by the magnificent peaks of the Wallowa Range. Take a tramway to the top of Mount Howard. Ride deep into Oregon's Hells Canyon.
PEDAL HAPPY! – Oregon's 'Scenic Bikeways' lead through Oregon's best scenic, historic, natural and cultural areas. Their wide lanes, cyclist-friendly businesses, and special amenities represent an enormous investment in bicycle tourism. Scenic Bikeways make for a welcoming experience – as you'll see on this tour. We've rated this tour Intermediate in difficulty, but there's plenty of cycling for Advanced riders looking for even more miles as well.
Day 01
Ride peaceful farm roads along part of Oregon's Grande Tour Scenic Bikeway.
Lodging
The Landing Hotel, or The Lodge at Hot Lake Springs
Ability Level
Intermediate
Elevation
+2,452 ft / -3,108 ft
Meet us in Boise. Hop in the van for a shuttle to Baker City. Bicycle past rural farms and rolling hills along part of the Grande Tour Scenic Bikeway. Ride to Medical Springs, a near ghost town where a natural hot spring at one time hosted a steam bath used by the Native American population, then a resort (built by Abraham Lincoln's cousin) featuring an Olympic-sized pool fed by the hot springs. Continue riding into the rolling hill country as the scenery changes from farmland to ponderosa pine forest. Enjoy a descent through narrow canyons and along beautiful Catherine Creek. Tonight, stay at The Landing Hotel or The Lodge at Hot Lake Springs in La Grande, Oregon.
Day 02
Ride beside the Wallowa River into Eagle Cap Wilderness, at the feet of the Wallowa Mountains.
Meals
– Breakfast
– Lunch
Lodging
Wallowa Lake Lodge
Ability Level
Intermediate
Elevation
+3,839 ft / -2,060 ft
Van to the quiet side of the hills this morning. Ride beside the Wallowa River as it curves beside the northern mountains of Oregon's Columbia Plateau. Closer to today's destination, the roads open out into farmland with tiny glimpses of Eagle Cap Peak. Come around a corner, and – ta-daa! You're suddenly in full glorious view of Wallowa Lake and the Eagle Cap Wilderness, with Chief Joseph Mountain towering over you along with its neighbors: 30 peaks topping out over 8,000 feet. Stop for a photo or maybe a dozen. Watch for deer and eagles as you ride the lakeshore to tonight's lodging at Wallowa Lake Lodge. Spend the next two nights enjoying spectacular views of the Wallowa Mountains and the tall pines. Dinner is on your own tonight.
Day 03
Explore Joseph, zoom up the Wallowa Lake Tramway, tandem paraglide, canoe, or go on a brewpub tour.
Meals
– Breakfast
– Dinner
Lodging
Wallowa Lake Lodge
Take today off. (This place is too good to miss!) Ride the Wallowa Lake Tramway – possibly the easiest way to climb 3,700 feet! Swim or hike. Try tandem paragliding or rent a canoe or paddleboard (not included in price). Head over to the art-rich town of Joseph to shop, visit museums or the chocolate factory. Check out one of the several breweries. Or spend the day in peace by the lodge watching the deer on the lawn. Lunch is on your own.
Not enough biking yet? We can help. The ride to Imnaha with a 30-mile descent into a deep canyon gives you a sneak peak of forthcoming Hells Canyon … followed by a 30-mile climb back to the Lodge, of course!
Day 04
Hells Canyon Scenic Byway and Hells Canyon Overlook.
Meals
– Breakfast
– Lunch
– Dinner
Lodging
Pine Valley Lodge
Ability Level
Intermediate
Elevation
+5,238 ft / -7,412 ft (or less)
Ride from Joseph into the Hells Canyon Wilderness today. Climb the high Wallowa Mountain Loop / Hells Canyon Scenic Byway to the Hells Canyon Overlook. Have a look at the deepest river gorge in North America. (More incredible photos!) You can do as much or as little of the 70+ mile route as you choose. Stay tonight and tomorrow at Pine Valley Lodge in Halfway, Oregon.
Day 05
Ride from Halfway to a rugged remote stretch of Hells Canyon few will ever ride.
Meals
– Breakfast
– Lunch
– Dinner
Lodging
Pine Valley Lodge
Ability Level
Intermediate
Elevation
+3,494 ft / -4,427 ft
Today's ride takes us deep into Hells Canyon. Leave Halfway and pedal (or coast) all the way down to the Snake River. Savor a nearly pancake-flat ride into a rugged and remote location of Hells Canyon. OK … there is one climb you won't soon forget, but it's somewhat short and very scenic! Continue beyond the dam to Visitors Center to see what the natural flow of the river looked like before the dam. Wild! This stretch of road is so quiet and free of traffic you will have plenty of time to reflect on your week circumnavigating the Wallowa Mountain Range and plummeting to the depths of Hells Canyon.
Day 06
Cross the Snake River back into Idaho.
Meals
– Breakfast
– Lunch
Ability Level
Intermediate
Elevation
+3,744 ft / -3,711 ft
Enjoy another cruise back downhill to the Snake River this morning. Cross over into Idaho and cycle south along the river (now a lake) above the Oxbow Dam. Climb out of the gorge through aromatic sage and grasslands all the way up to the pines before coasting 15 miles downhill to the quaint little town of Cambridge. Following a celebratory lunch, we will load up and shuttle back to Boise. Now you can truly say you have been to Hell, and back!
Dates
Guaranteed
This means that the tour will definitely depart as scheduled and not be canceled.
Price
Availability
As an optional extra, a person traveling solo or on any inn-to-inn trip may reserve a room for his or her exclusive use. This will guarantee you a private room and private bath every night.
Ready for Your Next Adventure?