Discover and explore what we ultimately strive for in a cycling vacation–which is to simply "Pedal Happy".
Close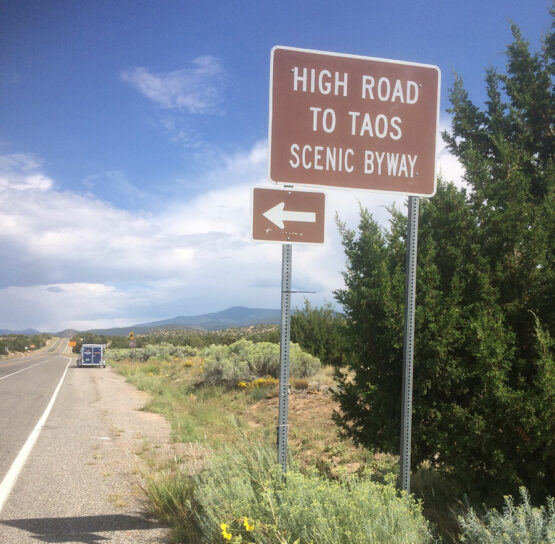 This was a wonderful, scenic tour with amazing food and lodging. Great guides and excellent van support as well.
Great guides and well planned activities. The routes capture the best combination of good cycling roads and stunning scenery.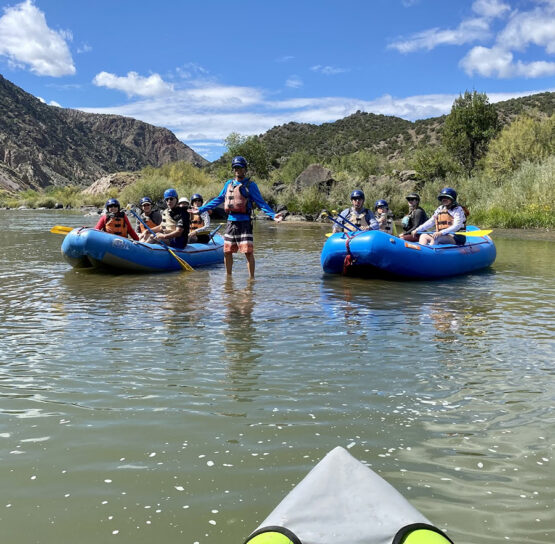 We had a blast on the Santa Fe bike trip! Wonderful part of the country, our first trip to NM. Our only complaint is how fast the week went by!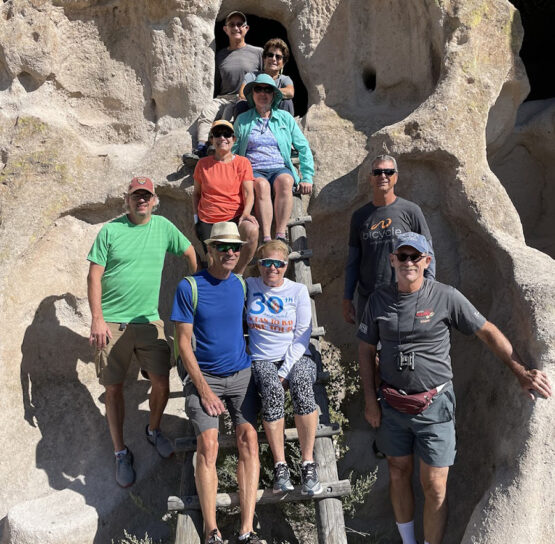 I love BA tours - this is my third one - seeing new places and experiencing the outdoors with great guides who know the terrain.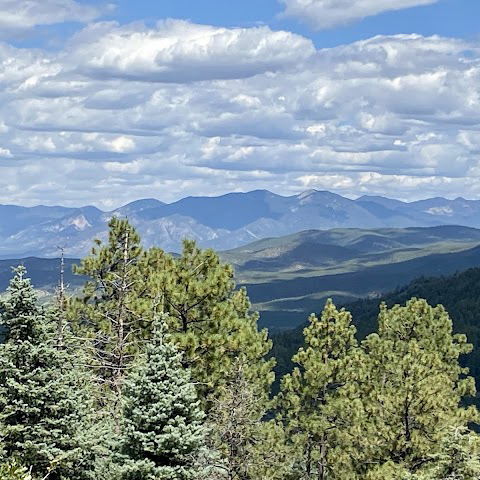 "All the earth colors of the painter's palette are out there." (Georgia O'Keeffe)
Flame-red chiles; golden adobe; snow-white peaks and sapphire sky: Ansel Adams, Thomas Wolfe and Georgia O'Keeffe were all smitten with New Mexico's intensity. Enjoy a multitude of options for cycling, hiking, culture and history – and feast richly on the region's phenomenal cuisine. Ride the stunning High Road to Taos and the Enchanted Circle. Spend a half-day rafting the Rio Grande River; explore ancient dwellings in Bandelier and Taos Pueblo, and still have time to wander Santa Fe's renowned art district.
Former guide Teri Smith reviewed this tour: "The Santa Fe region is generally colorful, where everyone and everything is bright, happy and beautiful. You see everything from high snow-capped peaks to rose-colored desert to broken mesas. The first time I saw it I thought, 'I should marry a cowboy because then I could see this every day!' Being here lets you learn a lot about the past and how it relates to our present. It makes you appreciate your life in a way that few places can. And being on a bike tour, you have that time to get up close." She recommended it for, "Anyone who is looking for a good trip to lengthen their riding season and is keen for a challenge beyond the beginner-level. It's good for intermediate and advanced riders too." 
National Parks on This Tour: Bandelier National Monument
This tour is operated under special use permit/s with the Bandelier National Monument. Bicycle Adventures is an equal opportunity provider.
Day 01
Explore art galleries and the Georgia O'Keeffe Museum. Ride into the Sangre de Cristo Mountains.
Lodging
Inn of the Governors
Distance
20 miles (or more)
Elevation
+1392 ft / -891 ft
Meet us in Santa Fe (public shuttle available from/to Albuquerque). Santa Fe boasts the third-largest fine art market in the United States, and it's one of the greatest cities in the world for dining!  Galleries and museums abound on the famous Canyon Road; local artists peddle their jewelry and crafts in the city's plaza. Go for a morning bicycle ride on the outskirts of Santa Fe.  Explore the town's rich culture this afternoon. Stay tonight at the Inn of the Governors, in the heart of downtown. Savor one of the city's fabulous restaurants for tonight's dinner.
Day 02
Delve into mysterious Bandelier National Monument. Ride to charming Chimayo.
Meals
– Breakfast
– Lunch
– Dinner
Distance
22 miles (or less)
Elevation
+2019 ft / -1541 ft
Head to Bandelier National Monument. Stroll through ancient cliff dwellings carved high on the canyon walls, where Ancestral Pueblo people made their home nearly 1,000 years ago. Ride north after lunch – through mesas and red hills to the town of Chimayo, famous for its weavings and its church.  Spend tonight at the intimate Casa Escondida, with stunning views of the Sangre de Cristo and Jemez mountain ranges.
Day 03
Ride the High Road to Taos Scenic Byway, with its tiny Spanish towns and expansive views.
Meals
– Breakfast
– Lunch
– Dinner
Distance
42 miles (or more)
Elevation
+3,011 ft / -4,122 ft
Bicycle the scenic High Road to Taos today, through endless panoramas of pine forests, snow-capped Sangre de Cristo Mountain range, and remote cottonwood-filled valleys. Stop along the way for a weaving demonstration by local artisans. Spend the next three nights at Hacienda del Sol in Taos.
Day 04
Raft the Rio Grande and explore historic Taos Pueblo - a UNESCO World Heritage Site.
Raft the Rio Grande Canyon this morning! Paddle Class II and III rapids carved through the desert rock, with the help of local guides and instructors.  Visit storied Taos Pueblo this afternoon. This is the largest existing multi-storied Pueblo structure in the United States, and home to Taos Native Americans for more than 1,000 years. Today, it is the only living Native American community that has been designated both a UNESCO World Heritage Site as well as a National Historic Landmark. You can also opt to find your thrills on a ride to Blueberry Hill, or if you are hankering for downtime, explore Taos' shops and artists' galleries, or get a massage. Lunch and dinner are on your own today.
Day 05
Ride the Enchanted Circle Scenic Byway. Pedal just a part, or do the "whole enchilada!"
Meals
– Breakfast
– Lunch
– Dinner
Distance
62 miles (or 85)
Elevation
+3986 ft / -4370 ft (or +5669 / -5671)
Ride the Enchanted Circle, a view-crammed loop north of Taos circling the highest peak in New Mexico: Wheeler Peak. The landscape is quite diverse: alpine forests, open range, cattle country, lakes, and fascinating small towns. The eastern half of the Enchanted Circle features long, gradual downhills through peaceful valleys of pasture and forest as it winds back to Taos. Bicycle 62 miles of this amazing loop (with boost options for the climbs) or the whole enchilada: 85 miles.
Day 06
Head to the Little Rio Grande and ride to picturesque Arroyo Seco or Taos Ski Valley.
Meals
– Breakfast
– Lunch
Elevation
+415 ft / -418 ft     (or +2,157 ft / -2,180 ft )
Visit the Little Rio Grande in the morning and choose from two cycling options: Pedal your bicycle down a quiet side road beside a creek, into beautiful Arroyo Seco valley, or challenge yourself with a ride up to Taos Ski Valley.
*Bicycle Adventures operates under special use permits while on Federal Lands managed by the National Forest Service (USDA), National Parks and Bureau of Land Management. In accordance with Federal law and U.S. Department of Agriculture policy, this institution is prohibited from discriminating on the basis of race, color, national origin, sex, age or disability. (Not all prohibited bases apply to all programs.) To file a complaint of discrimination: write USDA, Director, Office of Civil Rights, Room 326-W, Whitten Building, 1400 Independence Avenue, SW, Washington, D.C. 20250-9410 or call (202) 720-5964 (voice and TDD). USDA is an equal opportunity provider and employer.
Dates
Guaranteed
This means that the tour will definitely depart as scheduled and not be canceled.
Price
Availability
This is not required. It is an optional fee to allow a solo traveler to guarantee a private room for the duration of the tour.
Guaranteed
This means that the tour will definitely depart as scheduled and not be canceled.
Guaranteed
This means that the tour will definitely depart as scheduled and not be canceled.
Guaranteed
This means that the tour will definitely depart as scheduled and not be canceled.
Ready for Your Next Adventure?