From its rugged mountains to its gorgeous coastline, New Zealand is a breathtakingly beautiful country that's best explored on a bike. If you're interested in checking out New Zealand—and remember, there's a reason why Peter Jackson decided to film his Lord of the Rings films in his native homeland—consider signing up for one of our bicycle tours. Here's a brief breakdown on some of the things you can expect to see during the ten-day bike trip through New Zealand.
Starting just outside Christchurch, you'll ride through a lush and verdant valley over towards the small town of Rangiora. The area, rich in farmland, has an abundance of flora, so make sure to take pictures. Watch for herds of sheep crossing the road – they're the most common kind of traffic jam here. As you're riding, you'll pass through Canterbury, home to a number of fascinating Maori historical and religious sites. You'll also have an incredible view of some of the nearby snow-capped mountain ranges. After stopping off at the Heritage Hotel in Hammer Springs, bicycle on to Reefton up near the Lewis Pass. Reefton, a bustling small town, was originally a gold-rush settlement during the late 1800s. If you'd like, you can sign up for a tour of some of the old gold mines that surround the town. You can even try your hand at panning for gold!
From Reefton, pedal along the coast to Paparoa National Park to check out the park's stellar rainforest and beaches. This area is famous for the Pancake Rocks – odd sandstone formations – as well as its caves and limestone karsts. Heading further south, visit Westland National Park, home to Lake Mapourika as well as several stunning snowcapped mountain ranges. Up for an adventure? Don a pair of hiking boots and hike up Fox Glacier. If ice and snow aren't your thing, there's tropical rainforest practically across the street at the Okarito Lagoon, home to an incredible number of rare birds. Spend a half day paddling the lagoon, watching for birds and wildlife and soaking up sunshine and tropical flora and fauna. Interested in exploring New Zealand's pristine beaches? Ride out to Jackson's Bay, a remote stretch of coastline famous for its quaint fishing villages and austere beauty.
Your bicycle trip finishes with a couple of nights on the shores of Lake Wanaka. If you're planning on doing this trip with your spouse or partner, you might consider taking a little more to explore the famous Wanaka and Central Otago wine regions. Both areas offer excellent fully guided half-day and full-day winery tours, and the Otago region was actually used for filming Middle Earth landscape scenes for The Lord of the Rings films. Stop by the pub that posed as the Prancing Pony in the film series – it hasn't changed much since they ran off the orcs.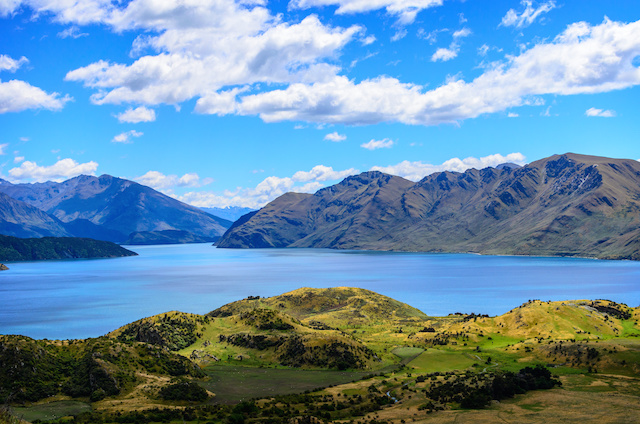 Another possibility for extending your time on the South Island is to shuttle south to Queenstown, which is especially popular with outdoor enthusiasts. You can do just about every outdoor activity here, from rafting to winery tours to ziplining to bungy-jumping. It's also the perfect start point for heading farther south to stunning Milford Sound and the fiordlands – a stunningly beautiful and remote region well worth a few additional days if time allows. Several well-regarded tour operators offer tours of the fiordlands, Milford Sound and Doubtful Sound, with pick-up and drop-off in Queenstown.
New Zealand is famous for its natural beauty, and if you decide to take a biking tour of this magnificent country, we know you'll have a fantastic time. Ready to pedal through New Zealand for the trip of a lifetime? Book today!