Personally, I've never been on Hawaii's Big Island without a bike and I truly think it's the best way to explore. I've found hidden gems on the island that I never would have without a bike. Like the day that I found a bike path above Kona that meandered through delightful neighborhoods and gave peek-a-boo views of the ocean. When I took Camille, our Chief Happiness Officer, back with me the next day she said "this was exactly the ride I needed." And I couldn't have agreed more!
There are so many beautiful roads and wonderful views you can explore by bike on the Big Island. If you haven't had the chance to cycle Hawaii's Big Island, I highly recommend it! Yes, there are hills, there are 5 volcanoes on the island after all. But hey, how many times do you get the chance to ride a bike on a volcano?
Over the years I've had more great bike rides on Hawaii's Big Island than I can count. But these are my 3 current favorite Hawaii Big Island bike rides:
Government Beach Road
This is my top pick, by a landslide! Imagine a serene road free of cars, that winds beneath an overlapping canopy of lush green trees and vines. The road is narrow and the vegetation makes it feel like you're riding through a living tunnel. This section of road isn't long, only 4 miles or so, but it's beautiful. I've only ridden it once, last summer during the rest day of our Hawaii Big Island tour. The weather was looking iffy but one guest wanted to ride and a couple more were up for exploring in the van so Camille and I loaded up and we set off from Hilo to Pahoa with our fingers crossed about the rain.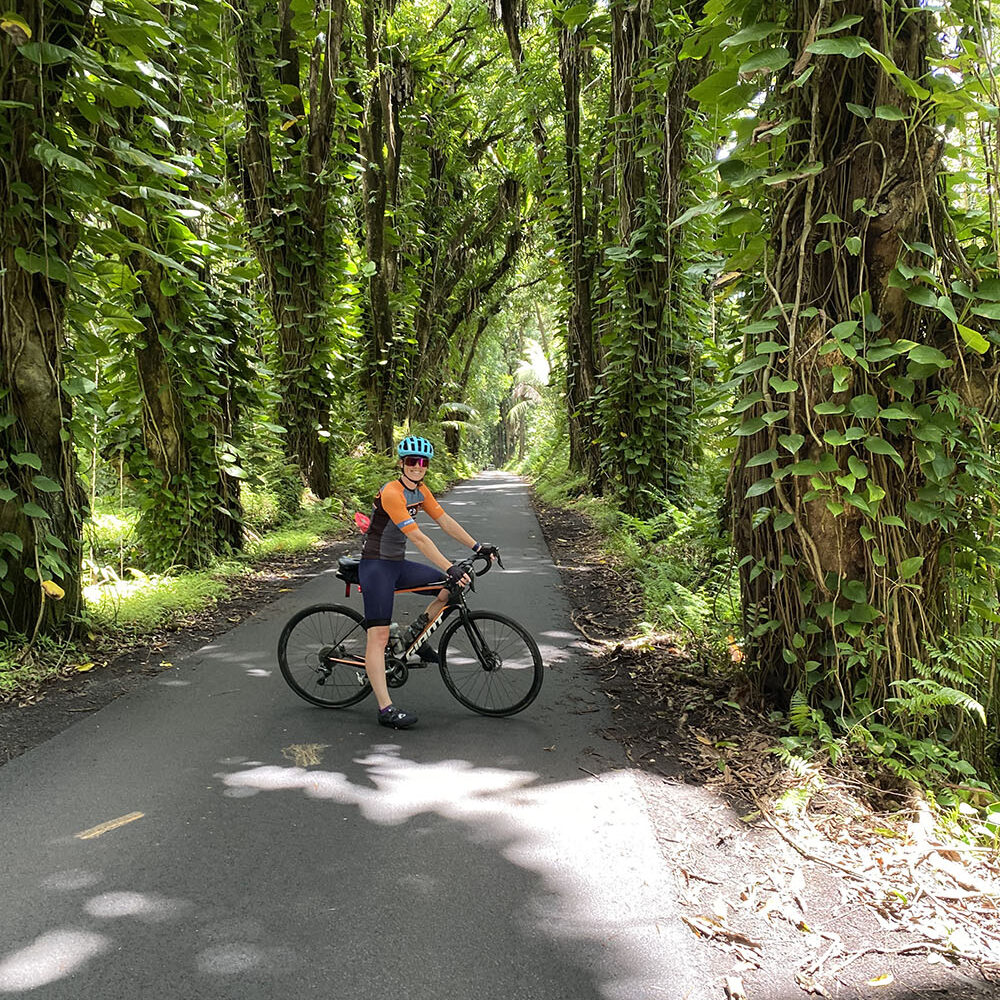 The rain held off and our guest who wanted to ride, Scott, and I pedaled down that road in awe. When we emerged from the trees we had only a short way until we reached the section of road that had to be rebuilt after the 2018 Kilauea eruption. Smooth blacktop surrounded on both sides by sharp a'a lava – this was brand new earth we were looking at! I haven't had a chance to go back there yet but I think about it often. I even looked back at my Strava history and discovered that I named that activity "Big Island Tour Day 4: the best little stretch of road." It's the truth. I hope I will get to ride it again someday soon.
Hilina Pali Lookout Road
Completely different from Government Beach Road, this stretch is exposed and on the side of a volcano. The road branches off the main thoroughfare of Volcanoes National Park and winds downhill, ending at Hilina Pali Lookout. It is technically a road but it's quite narrow and I encountered very few cars on my ride last summer. The van can't support this section of riding but it's still well worth the trek. The way down is gently graded and curving. I took my time and marveled at the foreign landscape around me. Gnarled trees growing out of lava rocks, the Pacific Ocean stretching out in front of me, sparkling water as far as the eye can see.
The way back is uphill but it's not too steep and the view is still good – instead of the ocean it's the volcano that takes up the horizon, clouds gathered over the top. Little did I know a torrential downpour was waiting for us at the top, but for the ride up I was perfectly content.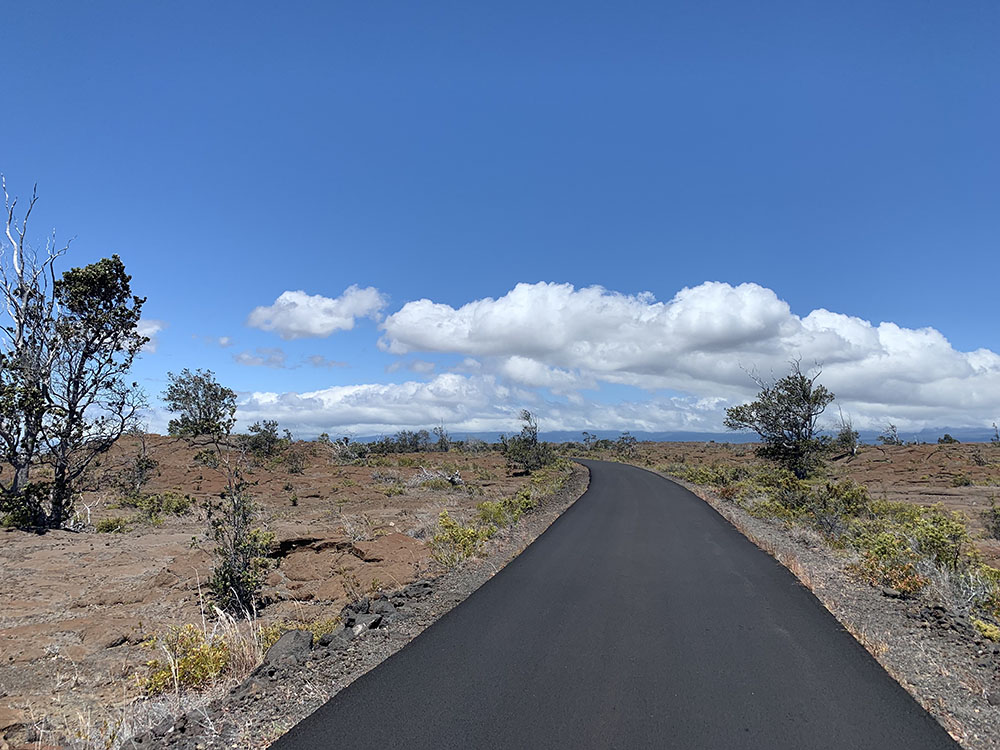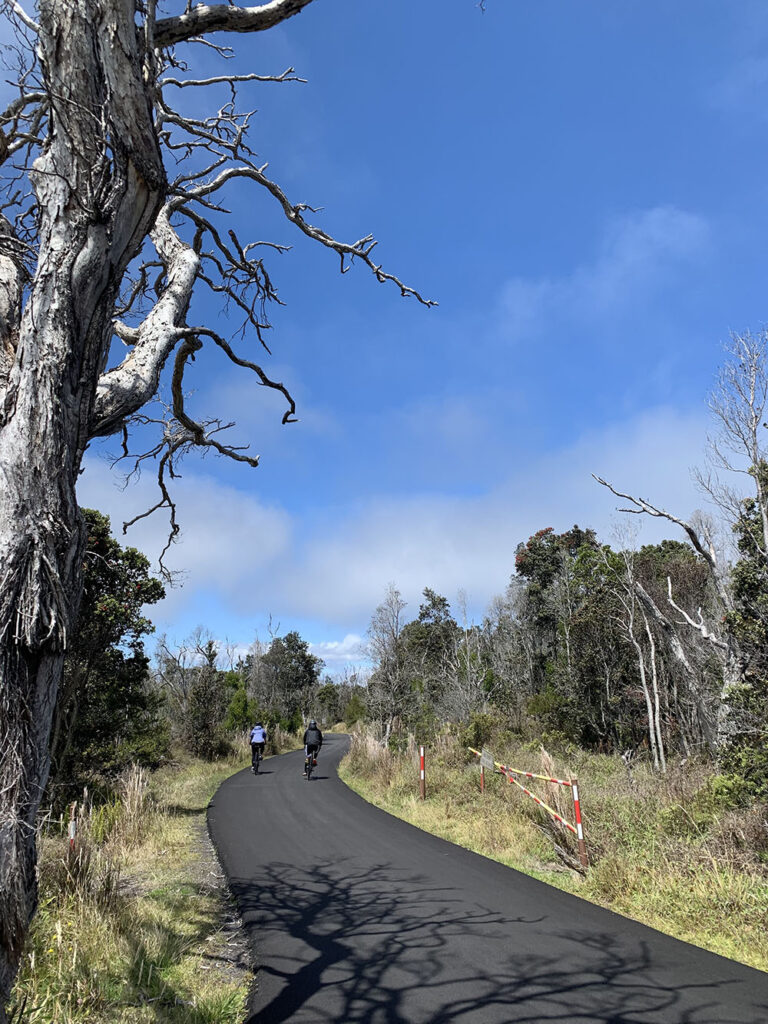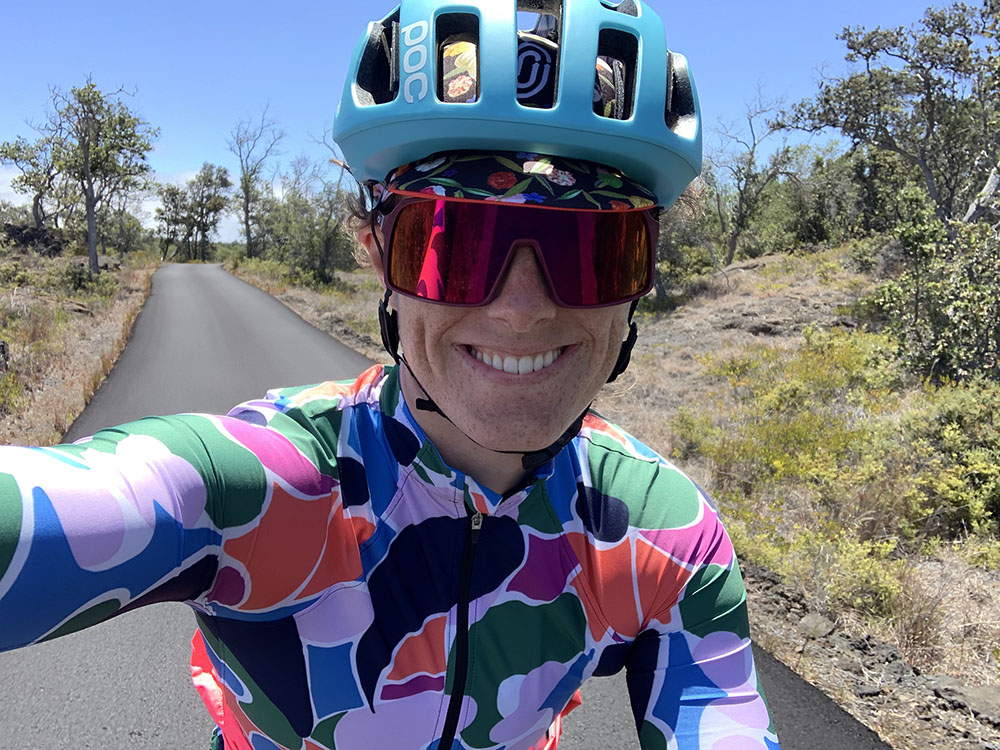 Hilo to Akaka Falls
We set out from Hilo to ride to Akaka Falls on the 5th day of our Hawaii Big Island bike tour. I love this ride in its entirety but my favorite part is riding through the Hawai'i Tropical Bioreserve & Garden and the section right after. It's another lush jungle of tree-covered road, giving it a somewhat similar feeling to Government Beach Road. But the difference here is the water. There are little streams and waterfalls that line the road. But what I found the most astounding was simply the sheer size of the plants. The rain on the Hilo side of the island makes everything incredibly lush, the plants grow like maniacs! At some points, I felt like I was riding through Jurassic Park – thriving, ancient, untouched flora all around me. I couldn't stop pausing to take photos.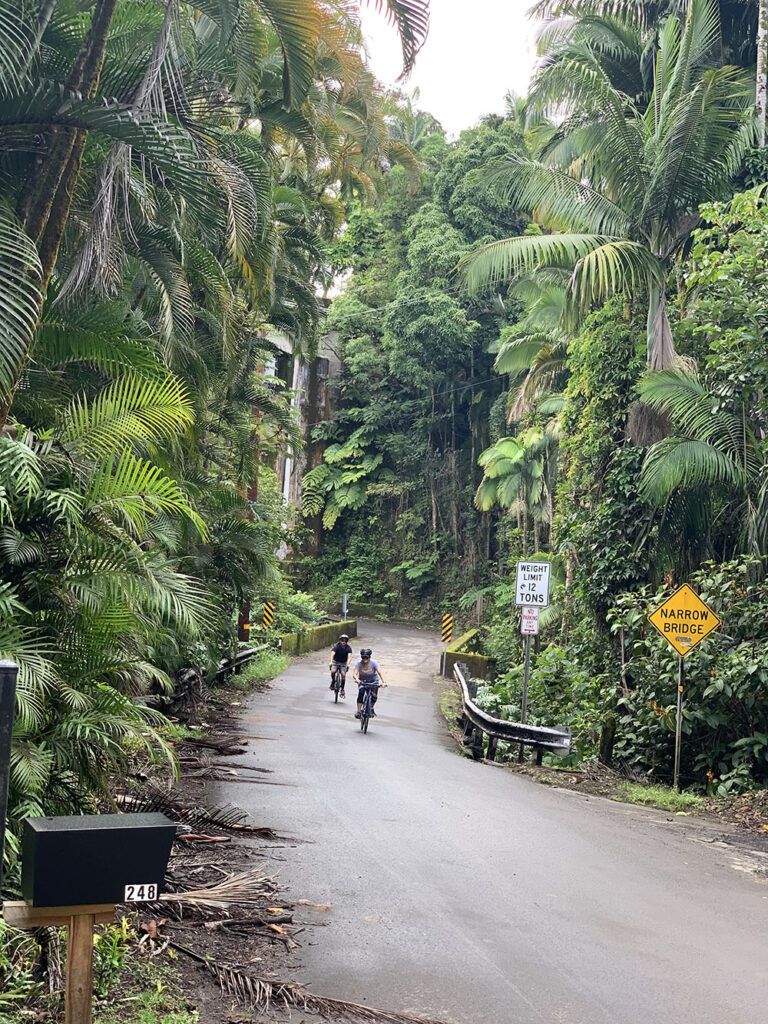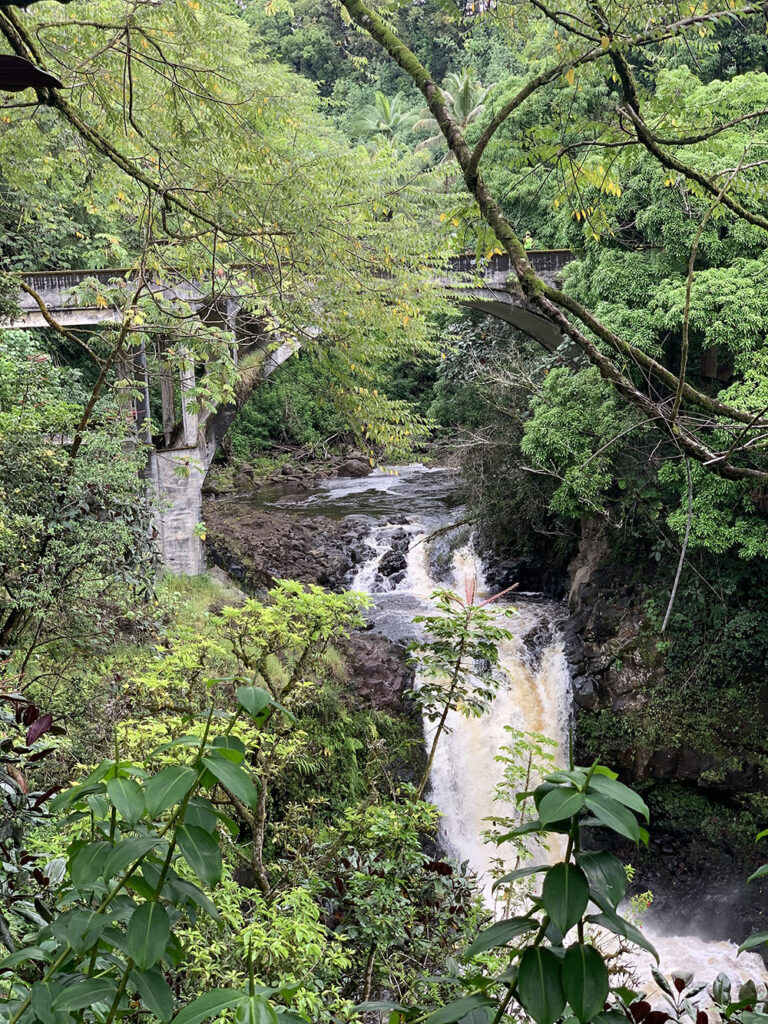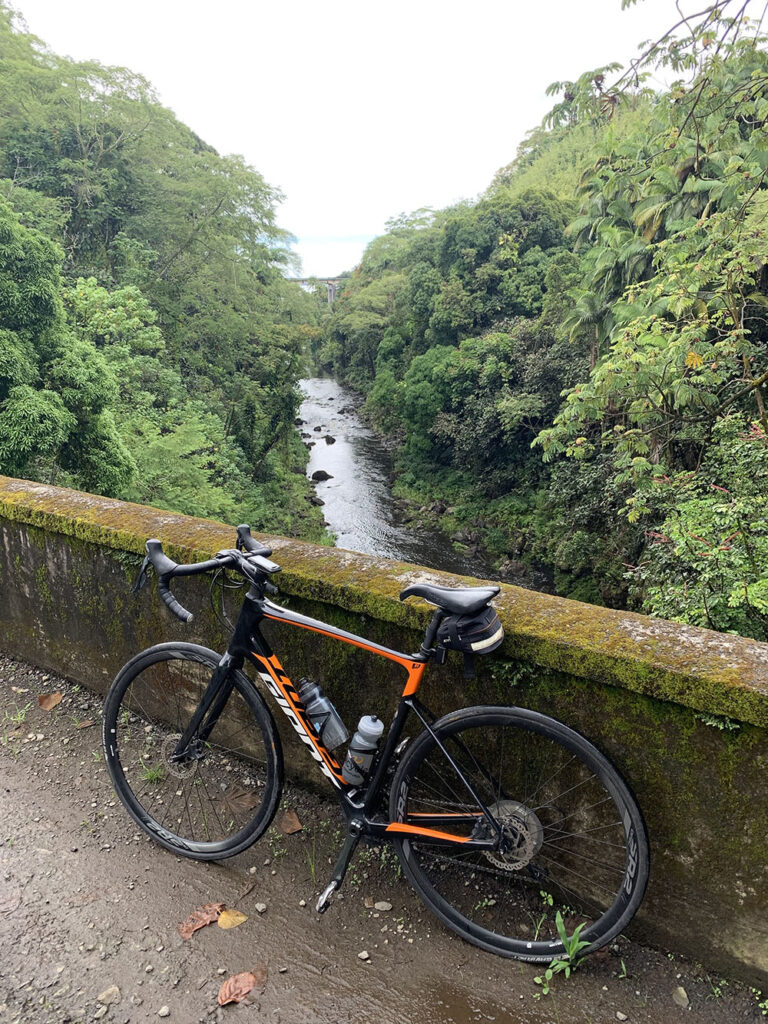 It's no coincidence that all of these rides are on our Hawaii Big Island bike tour. We've spent years scoping out routes and honing our itinerary. Join us this fall or winter to experience the magic of Hawaii's Big Island for yourself! Learn more about the tour and see all of our available dates on the Hawaii Big Island tour page.
Pedal Happy,
Meg